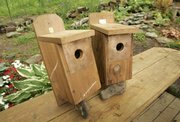 For these tenants, a wood shack is as good as a palace.
You can buy ready-made birdhouses at prices up to $100 or more. Or you could build your own for $5 -$10 in materials. Here are some tips how:
Do some research: There are many books about attracting birds and building birdhouses, and you can find other resources on the Internet. One such resource: The U.S. Fish and Wildlife Service's pamphlet "Homes for Birds," available at http://library.fws.gov/Bird—Publications/house.html
Decide what kind of bird you want to attract: This will determine the dimensions of the birdhouse and where it should be hung.
Plans: The Internet also has many sites offering free construction plans for birdhouses. Among them: The Cornell Lab of Ornithology: http://www.birds.cornell.edu/ nestinginfo/nestboxref/ construct.
Materials: Before you begin, gather wood that has not been painted or chemically treated, about 3/4-inch thick; galvanized or brass shank nails, hinges and screws; saw; drill; hammer; screwdriver; wood glue; paint, if you want to paint the exterior.
Things to remember: The size of the hole should be suitable for the type of bird you want to attract; ventilate the top and add drainage holes in the bottom; one side should be hinged or pivoted, to facilitate cleaning.
Time: How long the project takes will depend on your experience and skill, and how you want the birdhouse to be. With plans, the basic birdhouse probably can be completed in a half-hour to a few hours.
Mounting: Where? If possible, mount the birdhouse on a metal pole, which is tougher than a tree for predators to climb, says the Fish and Wildlife Service.
"Pick a height that's convenient for you," the agency says. "After all, you'll want to watch what goes on and keep the box clean."
Copyright 2018 The Associated Press. All rights reserved. This material may not be published, broadcast, rewritten or redistributed. We strive to uphold our values for every story published.