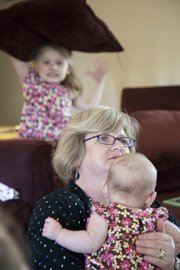 This Mother's Day, things really haven't changed all that much for Kim Cooper.
Other than her husband working once again in Lawrence.
And re-entering the work force herself.
And both of them caring for another daughter at home, born just before the dawn of a new year.
"Busy," she said, on a rare day off.
No, Cooper's life remains pretty much the same steady and fulfilling existence that it's been for her 26 years, no matter how many twists and turns and changes and challenges and anything else the world can manage to throw at her.
Thanks, Mom.
"You know, I don't know how people do it without grandmas around," Cooper says, during one of many cross-town visits with the kids to her mother's house in Lawrence. "I can't think of anyone else I really trust as much."
Like many mothers these days, Cooper leans on her own mother more than ever to help navigate the challenges that everyday life can bring.
Thankfully, for Cooper's sake, Brenda Childers is up for it.
Childers remembers what it was like to raise Kim and her brother, and how she had welcomed the generous assistance of her own mother. Whether it was baby-sitting, helping with transportation or just offering reassuring advice — "No, she doesn't need to go to the doctor" — Childers figures she had it easier than many of her fellow mommies back then because she had plenty of parental support while both she and her husband had been working full-time.
Now that Childers is in a position to return the favor — OK, favors many times over — she figures it's the least she can do.
"Kids still rely on grandparents to help out," Childers said. "It makes a difference, I'll tell you."
Marguerite, 5, enjoys coming over to grandma's to read, watch "Hannah Montana" and plant vegetables in the garden. Patricia, 4 months, appears plenty content to plunk down on a blanket, jabber when tickled and curl up on grandma's shoulder when the mood strikes.
Childers always is just a phone call away, willing to step in when illness strikes, work calls or any of life's other responsibilities get in the way of parenting. Childers works part time at a Lawrence construction company, as well as for her husband's marketing firm.
"We've been in the work force long enough to manage the work schedule if we need to help out," she said. "We'll make things work. My husband and I always have."
Cooper's in-laws, Jim and Sandy Cooper, also live in town and provide plenty of support and assistance, Kim Cooper said. She and her husband, Stewart, appreciate the kind and generous support that only parents can provide.
But Kim Cooper can't imagine what it would be like without the close, in-town mother-daughter bond that she has going now with her own mom — one she hopes to nurture, and repeat, with her own daughters.
"I definitely would hope that my girls wouldn't move too far away," she said, with a laugh. "If they do, I'll probably try to follow them."
Copyright 2018 The Lawrence Journal-World. All rights reserved. This material may not be published, broadcast, rewritten or redistributed. We strive to uphold our values for every story published.