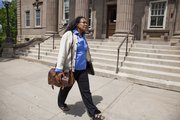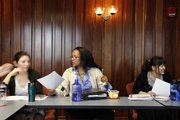 It's early evening, and the sidewalks surrounding Stouffer Place Apartments, on Kansas University's south end, are stirring to life with children enjoying a bit more of a beautiful spring day.
A young child on a bicycle whizzes by a collection of potted plants that makes one apartment stand out among the cookie-cutter brick buildings.
Inside, Angela Lindsey-Nunn, 40, is cutting corn off the cob for a salad. Her son, 14-year-old Noah Nunn, just finished rigging a paper towel holder with wire left over from fixing the muffler on his mom's car. Now, he's going to start reheating some fish for dinner.
Soon, they'll both retreat to their own corners of this small apartment, which has books stacked in every cranny, for homework. But that can wait.
"We may not have a lot of time together," Lindsey-Nunn says. "But it's quality time."
This is the way it works pretty much every night for Lindsey-Nunn, a single mom and master's student in social welfare at KU, and Noah, an eighth-grader at Southwest Junior High School.
It would be easy to gloss over Lindsey-Nunn's life and say she has to balance her work and home life. But her goals aren't so much about balancing as they are integrating all of the elements of her life — with one clear priority.
"I know she's very intentional about the way she raises her son," says Kathy Rose-Mockry, director of the Emily Taylor Women's Resource Center at KU. "In terms of priorities, she's approached everything she's done — academics, job choices — and he's at the top of the list always."
Early motherhood
Lindsey-Nunn was born in 1968 to a Korean mother and a black father who was in the Air Force.
She grew up in Salina and had her first child, Arielle, when she was a senior in high school. She could have dropped out, but her mother, who returned to school later in life to be a nurse and often held down two jobs at a time, made her finish.
"I wasn't a teen mom who had quit," Lindsey-Nunn says. "Mom had impressed upon me the importance, not only as a woman but as an ethnic woman, that need for an education."
So she finished and then enrolled at Marymount College in Salina. But it became too expensive, even working full-time, and she turned her attention to raising her daughter, who now is 23 and lives in Wichita.
Lindsey-Nunn eventually married in 1994 and gave birth to Noah a year later. The family lived in Lindsborg, just south of Salina. She worked at a variety of jobs — at restaurants, at the Land Institute, at a center that assists those with disabilities.
And she volunteered. She spent time at a farmers' market, at a homeless shelter, with the town festival in Lindsborg, at Salina arts organizations — the list goes on and on.
"I always knew I'd finish college," Lindsey-Nunn says. "It was just a matter of when."
A couple of years after a 2001 divorce, Lindsey-Nunn knew that time had come. She and Noah arrived in Lawrence with $20 and a mission.
'Worth it?'
Lindsey-Nunn knew studying hard was her ticket to happiness and success in life.
It's also what made her sick.
She had been battling seizures — both epileptic and nonepileptic — since Noah was born. But concentrating on a lecture in class or hunkering down for hours with a dense textbook triggered the seizures.
It's embarrassing, she says. She'll drool in class, or sometimes just start wandering around.
Medicine hasn't helped. She still has three to five seizures a week.
Sometimes, they're fairly minor. About a half-dozen times a year, she has to be hospitalized.
She remembers an exchange after a particularly bad seizure.
"I told my son, 'I don't know if I can do this. It's too hard. I feel guilty because we don't have a lot of material possessions. You have to take care of me when I'm sick. Is it really worth it?'" she recalls. "And he looked at me and said, 'You're not just doing this for you — you're doing it for me and sissy, too. Anything is achievable if you work hard — and mom, you're always working hard.'"
'Balancing her roles'
Lindsey-Nunn did work hard. She earned her bachelor's degree in anthropology last year and now is working on her master's.
And she's continued volunteering in Lawrence. She helped start community gardens at Haskell Indian Nations University and at the Stouffer Place Apartments, where many of the residents are international graduate students. Those who know her say she's become an advocate for those living there.
"Angela stands out in my mind in balancing her roles of being a mother, being a student and being an activist in the community," says Sheila Walker, one of Lindsey-Nunn's advisers. "She always talks about her son and her daughter. I know that's a priority. I'm always like, 'How does she do that?'"
Lindsey-Nunn even found time in 2007 to study abroad in India and took Noah along. She helped with a school and with health efforts in the northern part of the country.
When she graduates next year with her master's degree, she may return to work in India. She also has interest in teaching in Korea to explore her mother's roots, or pursuing social work in the United States.
"I never thought I'd be at a point where I'd have so many opportunities," she says.
'Bragging rights'
Still, with all those opportunities, she will remain a mother first.
"My priority is and has always been my children," she says. "My children are my legacy — they're the most important thing I will ever do."
Noah admits, as a 6-year-old, moving to Lawrence for his mother to pursue her education was traumatic. Looking back, he says, it was absolutely the right thing for both of them to do.
While he and his mother sometimes act more like friends, there's still a strong parental role, he says.
"We joke around a lot, but there's a point where it crosses the edge," he says.
Noah has plans for Mother's Day but certainly wasn't going to divulge them before today and spoil the surprise.
It's clear he's proud of his mom.
"It gives me bragging rights," he says. "My mother is labeled by modern-day society as someone with a disability. But you see her strengths before you ever see her weaknesses."
Copyright 2018 The Lawrence Journal-World. All rights reserved. This material may not be published, broadcast, rewritten or redistributed. We strive to uphold our values for every story published.