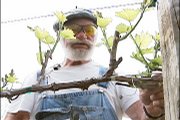 Basehor — Editor's note: Reporter Mark Boyle takes us behind the scenes of news stories in the area. This week, he catches up with Les and Michelle Meyer, a father-daughter duo who own the Holy-Field Winery in Basehor. It didn't take long for Mark to learn that taking care of grapevines throughout an award-winning vineyard is a yearlong process, and also hard work.
Three weeks past bud break, local wineries are working to thin out the shoots on each and every grapevine.
There is clearly a lot of work to get finished before we can even think about a visit to the tasting room.
"If you like working outside, this is the job for you," said Michelle Meyer, co-owner of Holy-Field Winery in Basehor. "But you have to love it because it's not just a job, it's a lifestyle."
During the past two decades, Holy-Field has become the gold standard in producing Kansas wine. Other Kansas vineyards go to the Meyer family for assistance and advice in growing Native American and French hybrid varieties. For instance, their Seyval, a French hybrid wine grape variety, was entered three times into international wine competitions this year, and each time it won a gold medal.
"We have our share of people from around the country that come here and talk to us about growing fruit," said Les Meyer, co-owner of Holy-Field Winery and Michelle's father.
"I think we are most proud of the fact that we really do grow a high-quality product that makes high-quality wine," said Michelle Meyer.
The Meyers have spent the winter preparing their 14-acre vineyard, which includes grapes to produce 16 different types of wine. Now, they work to thin out the crop so the grapes that do grow are of the highest quality.
If you taste a wine made at Holy-Field, you quickly learn they aren't your typical reds and whites, but many argue they are just as good.
"This isn't what they grow in California and Europe; they grow vinifera grapes there. If you drink Chardonnay or Cabernet or Merlot, those are grapes from the vinifera family," Michelle Meyer said. "In the Midwestern region, French hybrids are the kind of grapes that you find grown."
The Meyers also are proud of their winery because unlike many other Kansas wines, all of their wines are produced from grapes grown on the Meyers' 30-acre estate.
If you haven't tasted Holy-Field wine, the Meyers urge you to stop by.
One piece of advice: Don't get too comfortable or, as we learned, you will be put to work. But it does include a reward at the end of the day.
Copyright 2018 The Lawrence Journal-World. All rights reserved. This material may not be published, broadcast, rewritten or redistributed. We strive to uphold our values for every story published.