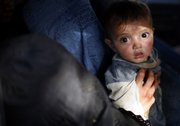 Mingora, Pakistan — Civilians cowered in hospital beds and trapped residents struggled to feed their children Saturday, as Pakistani warplanes pounded a Taliban-held valley in what the prime minister called a "war of the country's survival."
Warplanes and troops killed dozens of entrenched militants Saturday in the assault on northwestern Swat Valley, the army said.
The offensive has prompted the flight of hundreds of thousands of terrified residents, adding a humanitarian emergency to the nuclear-armed nation's security, economic and political problems. Desperate refugees looted U.N. supplies in one camp, taking blankets and cooking oil.
A suspected U.S. missile strike killed nine people, mostly foreigners, in South Waziristan, another militant stronghold near the Afghan border, Pakistani intelligence officials said. The identities of the victims remained unclear.
Prime Minister Yousuf Raza Gilani directed millions of dollars to help the residents of a region where faith in the government is shaky, saying the army "can only be successful if there is support of the masses."
Gilani held an emergency Cabinet meeting Saturday. Speaking to reporters afterward, he called the Swat offensive a "war of the country's survival" but said the military could win.
Encouraged by the Washington, Pakistan's leaders launched the full-scale offensive on Thursday to halt the spread of Taliban control in districts within 60 miles of the capital, Islamabad.
Pakistan's army is fighting to wrest Swat and neighboring districts from militants who dominate the adjoining tribal belt along the Afghan frontier, where U.S. officials say al-Qaida chief Osama bin Laden is likely holed up.
Witness accounts indicate that scores of civilians have already been killed or injured in the escalating clashes in the Swat, Buner and Lower Dir districts.
Even the medics are gone: Only three doctors remained Saturday at the hospital in Swat's main town, Mingora — all of them working flat out.
One of the patients, Omar Ali, said a mortar shell had crashed through the roof of his home near Mingora on Wednesday, killing his eight-year-old son. Ali, his wife and four more children were injured. Neighbors pulled them from the rubble and brought them to hospital.
"We are in pain. We are helpless and homeless," the tearful 45-year-old government worker told an Associated Press reporter who visited the clinic. "Even here, we are scared because we keep hearing explosions, gunfire and the noise of planes."
Nisar Khan, one of the three doctors left, said about 25 war-wounded were among the 100 patients.
It was unclear how many people remained in Mingora, but one resident too scared to try to flee said he was running short of food for his three children.
"We have no electricity, no running water, and we are almost out of food, milk and other things. We do not know what to do," Ikramullah Khan said.
"My wife has been mixing a few drops of milk into water just to make it look like milk. The younger children are not fooled. They just cry," he said.
Taliban militants seized much of the area under a peace deal, even after the government agreed to their main demand to impose Islamic law in the region.
U.S. officials likened the deal to a surrender. Pakistani leaders said the agreement's expected collapse had opened the eyes of ordinary citizens to the extremist threat.
The army says 12,000 to 15,000 troops in Swat face 4,000 to 5,000 militants, including small numbers of foreigners and hardened fighters from the South Waziristan border region.
Copyright 2018 The Associated Press. All rights reserved. This material may not be published, broadcast, rewritten or redistributed. We strive to uphold our values for every story published.