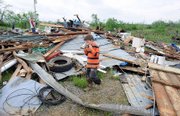 St. Louis — Residents of the Midwest cleared away wreckage Saturday following a wave of powerful storms that splintered homes, knocked out power to thousands and killed six people.
Hundreds of homes and businesses were damaged or destroyed Friday in Kansas, Illinois, Kentucky and Missouri and 150,000 Missouri utility customers lost power. Missouri Gov. Jay Nixon declared a state of emergency.
"My primary concern is the safety of Missourians and this executive order makes state agency resources available to help communities respond to the storms," Nixon said.
In southern Illinois, more than 63,000 customers of the utility Ameren still had no electricity Saturday, the company said. Illinois Gov. Pat Quinn on Saturday declared three southern counties disaster areas.
Kentucky Gov. Steve Beshear declared an emergency in central and south-eastern sections of his state Saturday, and West Virginia Gov. Joe Manchin made the same declaration for six counties in that state.
Trees were down and windows were broken on the campus of Southern Illinois University's Carbondale campus, but the school said weekend commencement ceremonies would go on as scheduled. Friday's graduation ceremonies were canceled.
On Saturday, a line of thunderstorms stretched from Arkansas and northern Mississippi across Tennessee and Kentucky.
Some homes were evacuated early Saturday in southern West Virginia because of flooding caused by more than 2 inches of rain, said state Homeland Security Operations Director Paul Howard. High water also closed several main roads. No injuries were reported. Appalachian Power reported about 6,000 customers were still without service Saturday evening, down from about 10,000 earlier in the day.
The hardest hit area in West Virginia was Mingo County. Robert Jelacic, a Homeland Security shift leader, said Saturday evening that an aerial survey of the county determined that about 100 structures were destroyed, nearly 500 had major damage and more than 1,000 had minor damage. He said emergency personnel planned to deliver food and drinking water to the area today.
Two people were killed near Poplar Bluff, Mo., when wind knocked a tree onto their sport utility vehicle. In Missouri's Dallas County, a man in his 70s had a fatal heart attack after he and his wife were sucked from their home by a tornado and thrown into a field 75 to 100 feet away, said county emergency management director Larry Highfill. The wife was hospitalized in fair condition.
A 54-year-old woman was killed in southeast Kansas in a mobile home that was blown off its foundation. And in central Kentucky, officials blamed a tornado with winds of 120 mph for the deaths of two people whose bodies were found in a pond near a mobile home community.
Wind in southeast Kansas area reached 120 mph, destroying the New Albany United Methodist Church, the town's post office and at least one home, authorities said. Major damage also was reported to a high school in Cherokee, Kan.
The National Weather Service said it received multiple reports of tornadoes from one end of Missouri to the other, mostly south of Interstate 44.
The weather service confirmed that at least two tornadoes touched down Friday morning in southwest Missouri's Greene County. The county's Office of Emergency Management counted three homes and one business destroyed with 298 homes, 29 businesses and 13 schools damaged.
Copyright 2018 The Associated Press. All rights reserved. This material may not be published, broadcast, rewritten or redistributed. We strive to uphold our values for every story published.