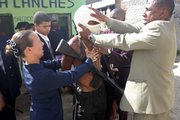 Rio De Janeiro, Brazil — It is the scene of an old-time revival, with Pastor Andre Assis laying hands on the young man and diving deep into a religious chant.
"Burn! Burn! Burn all the bad, all the evil, all the demons inside this boy, in the name of Jesus we're burning it ... HEY!" Assis yells. His right hand flies off the youth's head as if to physically expel the evil inside.
The young man sways, eyes closed, knees weak, caught in rapture. But throughout, Alessandro never lets go of his 12-gauge shotgun — the one he used an hour before to fend off police trying to enter this slum. He is a foot soldier for one of the drug gangs that control most of Rio's more than 900 shantytowns.
"I'm divided, between receiving the word of God while at the same time doing something bad, something that destroys lives," says Alessandro, 24, standing amid a half dozen other heavily armed youth in the "boca de fumo," the spot in a slum where packets of cocaine, marijuana and crack are sold at a rapid clip. "Would I prefer not to be in this life? Of course. But everybody has a family to support, and there is no other work here."
This is the challenge facing Pastor Assis, 36, and the countless other evangelical preachers, whose growing presence in Rio's violent slums provides the only organized entity aside from drug gangs. Assis is trying to do through God what Brazil's police have yet to do through guns — bring peace across the vast shantytowns that house about 30 percent of Rio's 6 million people, thousands of whom die in gang wars each year.
Brazil is the world's most populous Roman Catholic nation, with about 70 percent of its 191 million people following that faith. But there are now about 30 million evangelicals in the country, three times as many as in 1980, according to government statistics and scholars.
The evangelical churches battle it out for new members and converts. Preachers like Assis walk into the most dangerous slums and recruit daily within prisons in their thirst to go after every segment of society, in the belief that every person has a soul worthy of being saved.
Saving souls in a slum
The local leaders of the Comando Vermelho drug gang — or Red Command — allowed Assis to have an Associated Press reporter accompany him on a recent Saturday to their slum, on condition that the names of the shantytown and its leaders not be disclosed.
The slum is surrounded by enemy drug factions ever looking to invade. And some of the local drug lord's top lieutenants have been nabbed by police in past months, increasing the tension.
During the drive west and the journey on foot into this shantytown's Red Command headquarters, the luxury cars and well-groomed beachgoers of Ipanema give way to a flat, dusty slum with horse-drawn wagons. Coked-up boys ride dirt paths on roaring motorcycles, and barefoot kids idly throw pebbles at a sow and her piglets. Young drug sellers sit in lawn chairs, plastic bags filled with cocaine, marijuana and cash at their feet, high-caliber rifles and 9 mm pistols in their waistbands. Each time a seller dips his hand into a bag to pull out a one-gram packet of cocaine for a customer, a puff of coke dust rises, glinting in the sun.
A boy, no more than 16 and accused of stealing from a store, is being beaten with a two-by-four, 60 feet from where the drug lord sits for an interview. After the first few whacks, the boy is dragged behind a wall. Brutal sounds of wood on bone are heard.
Assis jumps to his feet, hustles over, looks around the wall, winces and looks back at the drug chief, a plea in his expression. He looks back to the beating and slowly returns to the drug lord's side without intervening.
"It's the criminal tribunal, it is how it functions," Assis later explains. "First infraction — they are beaten, but not killed. Second time, they 'correct' him by shooting him through both hands. If he messes up a third time, he is executed."
It's the fine line the pastor walks — knowing where to intervene, when to press his luck with an unpredictable drug boss to try to spare a life.
'Weeding out the weak'
Back in the drug den, the 26-year-old Red Command gang leader explains why he allows Assis and other evangelicals into his territory.
"If one of my soldiers decides the church can give him a better life, fine. The pastor can come and take one and there will be 20 kids waiting to take his place," he says. "If they can't cut the life of crime, then the pastor is helping me by weeding out the weak."
About a dozen of his foot soldiers stand about, warily keeping an eye on entry points to the slum, waiting for police to return a half hour after trading rounds with them.
Most appear high on marijuana or cocaine. The gang leader, however, is lucid and relaxed, sporting a Sean John fisherman's hat, black Nike polo shirt and two new 9 mm Israeli-made Cherokee pistols tucked inside his shorts.
"I don't see the church as a competing power. In fact, the majority of our faction's leaders accept the word of God and the doctrine of the church," he says.
His explanation is simple.
"Just because I lead this life doesn't mean I don't believe in God. I have no doubt it is God who saves me from the bullets that come my way," he says, pointing to bullet holes in the concrete wall he leans against. "Shots have come close enough to put holes in my shirt. But I keep on living. I sincerely recognize that it is God who is protecting me."
Copyright 2018 The Associated Press. All rights reserved. This material may not be published, broadcast, rewritten or redistributed. We strive to uphold our values for every story published.