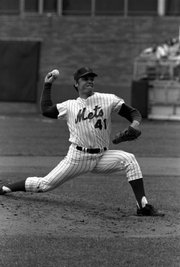 It happens every 40 years.
A baseball team the world anticipates will have another abysmal season instead is lifted by a dominant young starting pitcher who seemingly can't lose.
Tom Seaver, then 24, led the Miracle Mets to a most improbable World Series championship in 1969. The Mets' best record in their first seven years of existence was 73-89. With Seaver going 25-7, the '69 Mets went 100-62 in the regular season. They went 7-1 in the postseason.
The Kansas City Royals, with one winning season in the past 14 coming into this year, sit atop the American League Central standings. Zack Greinke, who puts his 6-0 record on the line today in Anaheim (Sunflower Broadband channels 36, 236), has revved the Royals the way Seaver did the Mets 40 seasons ago.
Seaver had a fastball difficult to catch up to, and then he had another fastball he kept in his back pocket, bringing it out a few times a game when he really needed it. It had a few extra mph of mustard on it, and the hitters didn't have a chance. Greinke does the same.
Could Greinke, 25, lead the Royals all the way to a World Series title? For an answer to that question, one of many Lawrence residents intrigued by the Royals' quick start was consulted.
"I hope so," said Jim Seaver, 90, from the living room in a beautiful Old West Lawrence home he shares with wife Virginia. "It may be a little soon. They do have an interesting team."
Seaver follows them on television. He followed the '69 Mets via newspaper accounts and on TV when they played on Saturday's Game of the Week. He took particular delight in watching the Mets in the postseason. He had a little more invested in it emotionally than the average baseball fan. Tom Seaver, son of Charles, is Jim's nephew.
Active retirement
Watching the Mets then and the Royals now is not, however, an obsession for Uncle Jim. To know anything about the Seavers is to know they are achievers first, spectators second.
Tom Seaver could capitalize on his name and enhance his wealth speaking on the rubber-chicken circuit. Instead, he works in the dirt, tending to the cabernet Sauvignon vines at GTS Vineyards (his full name is George Thomas Seaver).
His Uncle Jim, 20 years retired as a history professor at Kansas University, remains active in the retired professors club and continues to do his weekly radio show on Kansas Public Radio. Wife Virginia uses the Internet to do much of the research for "Opera Is My Hobby," one of the nation's longest continuous radio shows, which started in 1952. Jim uses those notes and his sharp memory bank of opera knowledge and hand-writes an outline to follow for each show.
He coached the Kansas University men's tennis team in 1947, his first year in town, and still proudly displays a team picture along with several family photographs on a dresser in a room upstairs. On a nearby wall, a charcoal illustration of a woman defines glamour.
"That's my sister Katy," he said. "Unfortunately, like her husband, she smoked, and they died way back in 1970. They should have lived a lot longer than that."
The handsome young man in the back-and-white photo he points to is his brother Charles, a famous golfer in his day and the father of an even more famous pitcher.
In 1930, Charles Seaver made it to the semifinals of the U.S. Amateur Championship, where he fell from 5-up in his 18-hole match to lose by the slightest of margins to Eugene Homans. Had Charles held the lead, he would have faced legendary Bobby Jones in the final at Merio Cricket Club in Haverford, Pa. Instead, Jones completed his Grand Slam by defeating Homans, 8 and 7.
"Golf, I think, is probably the greatest game ever invented and the most beautiful one to play," Jim Seaver said. "You're playing in beautiful paces."
Tennis anyone?
Tennis, though, was his game, one he learned on the grounds of his family's home on Wilshire Blvd. in Los Angeles.
"When I was about 6 or 7, they built a tennis court for us," he said.
He went on to star in the sport at Los Angeles High and then Stanford University.
Sports certainly has had a place in Seaver's life, but never a dominant one. When you say "Met" in his presence, he assumes you are talking about the Metropolitan Opera House, not his nephew's first major-league baseball team. A few years ago, when he was diagnosed with spinal stenosis and had to give up golf, he figured that since he played the game for 80 years or so he wasn't cheated. It's not as if his books were taken from him.
"I read pretty extensively still," he said. "I have no problems with my eyes, fortunately."
As with all natural-born teachers, Seaver has an insatiable thirst to learn more about his passions. He can't read enough about historical figures Charlemagne and Emperor Constantine. The more he learns about architecture, another of his passions, the more he wants to learn more.
And of course, there is his hobby, opera, which of course is more than a hobby for him. He brings all the qualities an informative, entertaining radio host must to hold his audience captive: extensive knowledge, a sharp wit, passionate opinions.
He and Virginia, an avid bridge player, regularly attend showings of the Metropolitan Opera House's "Live in HD series" at the Southwind 12 movie theatre, 3433 Iowa.
"A lot of the actual sets of the Metropolitan now I think are dreadful," he said. "But once in a while they do it right. I have a big quarrel with a lot of the sets. Innovative but dumb and not contributing at all to the production of the opera. On the other hand, there are some great things happening. There is a revival of early 19th century Italian opera. I like melodic music, rather than the cacophony of much of the 20th century. (Composer) Vincenzo Bellini's (work is) coming back."
And: "One of the very finest tenors is singing today and is a great favorite of mine, Juan Diego Florez. He's right at the top of his form, and I think he has the most beautiful voice in the world right now."
Beating Bobby Riggs
Spending an hour with Seaver, listening to him look back on the years, it's easy to see where he kept the attention of his students. The man knows how to tell a story, such as the ones he shared about his friend and rival from his high school days in Los Angeles, legendary tennis star Bobby Riggs.
"I did beat him one time in doubles when he had a dreadful doubles partner," Seaver said. "I had a good partner. We hit everything to Bobby's poor partner. In singles it was impossible for me to beat him. I one time got a set from him, the second set after he had gotten the first set. After the set we crossed each other at the net, and Bobby said in that squeaky voice of his, 'I just can't beat you today.' I said, 'Bobby, be quiet. We know what's going to happen.' We got along well, but I was very wary of him in many ways. He would like to get you in a Ping-Pong game if he could for money. I didn't have any money so I stayed away from that."
He didn't stay away from Riggs socially, although there was one occasion that he wished he had.
"I had a girlfriend in Los Angeles by the name of Rosemary," Seaver reminisced. "It was arranged that we would go down to the beach club and we would go to the pier. The idea was we'd all have our dates. By the time we got organized, I was driving the car. My date was in the back seat with Bobby, which was a dangerous situation, to say the least. Our friend Bernie was up in front. I had to look in the mirror in the back seat and certainly some odd things were going on back there. We got to the pier and had an interesting time and took pictures.
"Later on, right in the middle of World War II, Bobby Riggs was still playing well and came to Kansas City to play tennis and did not win his match, as I recall. I was in the audience, and I went down to see Bobby. We did some reminiscing about things and we got to talking about Rosemary in the back seat and so on. He said, 'Look,' and he pulled out of his wallet a picture of her that was taken on that occasion."
Seaver has a framed, signed picture of actor Robert Stack on his dresser, which naturally triggered a quick Stack story.
"He was my closest friend. We were raised together, same block, and both had nurses who were Swiss," Seaver remembered. "They used to talk French. Bob couldn't speak English when he was first raised. He went to college at USC. What do you imagine he majored in?"
Drama? He shook his head and formed a hint of a smile.
"French, which he already knew," Seaver said. "He had a wonderful accent."
About that nephew …
The retired history professor did get around to talking about his nephew, remembering fondly going to Royals home games with then-KU Chancellor Gene Budig and once introducing the man who wasn't yet the American League president to the White Sox pitcher who wasn't yet a Hall of Famer, though certainly had cemented his plaque by then.
Baseball is just one of the colors in Jim Seaver's rainbow. Like so many in the area, he likely will tune in the game tonight to watch Greinke and the Royals and maybe he'll even think about his nephew and the Mets.
"He's a wonderful pitcher, and he was doing quite well last year, too," Seaver said of Greinke. "And some of these new Latin American players are coming through, too. I have real hopes they'll have a good season."
Often though when he trains his mind on sports, he questions whether there is "an overemphasis on athletics," particularly at KU. That's what great thinkers do. They challenge the status quo. They ask questions. They try to figure out a better way. They seldom sit back and watch in detached fashion. For all their physical gifts, their core, the Seavers are great thinkers. The Seavers are great achievers.
Copyright 2018 The Lawrence Journal-World. All rights reserved. This material may not be published, broadcast, rewritten or redistributed. We strive to uphold our values for every story published.