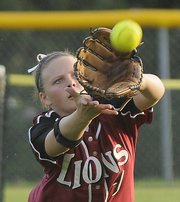 What Lawrence High's softball team failed to accomplish in 14 innings on Wednesday, the Lions achieved in two batters on Thursday.
They finally scored a run.
Then, they plated two more in the frame for good measure.
Unfortunately, those happy first-inning vibes faded over the next 14 innings of Thursday's doubleheader, as Lawrence lost, 10-3 and 3-1 in eight innings, against Shawnee Mission East at Holcom Complex.
"It felt good to get everything going, get some runs on the board finally," sophomore catcher Kristen Bell said. "But I wish we could have scored more and beat them."
One day after the Lions did not score in two shutout losses against Shawnee Mission West, they came out swinging against SM East. The Lions' first three batters reached base and scored, giving LHS starting pitcher Lauren Massey a rare cushion with which to work.
"It was a big relief, but I knew that we couldn't just stop there," Bell said.
The Lions held the lead behind Massey's solid pitching until the sixth inning, when the game unraveled for Lawrence.
Thirteen Lancer batters marched to the plate. Eight scored. Three advanced on Lions errors. And Lawrence fell behind, 10-3.
In Game Two, Lawrence (1-15) trailed, 1-0, until Bell again tallied an RBI. She drove in Massey from second on an infield single that tied the game at 1 in the sixth.
The game went to extra innings, where Massey — who pitched all 15 innings Thursday and 14 more the day before — finally ran out of steam. She allowed two runs to score, and the Lions couldn't capitalize on base-runners in the bottom of the eighth.
Between games, seniors Mariah Vaughn and Angelena Ross were honored on Senior Day.
Copyright 2018 The Lawrence Journal-World. All rights reserved. This material may not be published, broadcast, rewritten or redistributed. We strive to uphold our values for every story published.