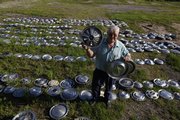 The visitor to H.Z. Smith Motors was looking over a '26 Model T Roadster, reminiscing about how he once had a "turtle shell" himself.
The visitor said he would have guessed this one was a '27. But 73-year old Howard "H.Z." Smith said it was a '26 — but not to feel bad because it's darn tough to tell the difference.
"The '26 and '27 were all steel bodies and they had the gas tank in front of the windshield. The older Ts had it under the seat," Howard said. "That's how you tell the '26 and '27s."
That's the way it works at H.Z. Smith Motors, the place just east of Lawrence on Kansas Highway 10 that serves as a combination classic car lot/salvage yard.
Some of the nuggets here are mined from the memories of men who have lived a life surrounded by automobiles. Other nuggets are mined right from the ground. Piles of parts lined up in the grass — bench seats with a story to tell, chrome hub cabs waiting for a good rub down, valve covers with grease older than many a visitor who picks them up to feel their weight.
Pointing to rows of fenders, mirrors, motors and other parts that you didn't even know cars had, Howard says: "I could probably walk through and tell you what everything out there is."
For a bit longer, anyway.
After 32 years in business, H.Z. Smith Motors is closing Saturday, May 9, with an auction that begins at 10 a.m. at the business, which is just east of the LRM plant on Kansas Highway 10.
The auction is expected to attract buyers from across the country, with collectors from West Virginia, Georgia, Pennsylvania, Iowa and Ohio already confirming that they'll be there.
The reason? It goes back to a simple saying that has been uttered upon oily shop floors the world over: They ain't making any more of these.
•••
On the auction block will be a '55 Thunderbird, a '65 Studebaker that has only 44,000 original miles, and a muscle car or two that crank out about 400 horsepower. Some vehicles could fetch $20,000 or more.
Others will fetch memories of a bygone era — a Packard, a Scout, a Galaxie, an Oldsmobile and several other names that once were prominent on car lot billboards but now are relegated to the history books.
Keith Smith, who took over the business after his father retired in 2001, thinks the history books are where a lot of businesses like this one are headed.
"The days of a salvage yard where you can walk through the rows and look and touch the old cars are pretty much gone," Keith said.
The Internet has helped usher out that era, Keith said. When it comes to classic car parts, a good majority of that business is now done online. People type a part into a search engine, a worker in a warehouse pulls it off a shelf and it arrives on your doorstep a few days later via UPS.
Efficient, for sure. But when did owning a 50-year-old automobile become about efficiency?
Some of the best days at H.Z. Smith Motors were some of the most inefficient, Keith said. For years, the Douglas County Fairgrounds has played host to the state's largest swap meet — a place where old car parts are strewn about for sale.
During swap meet week, the motor company became a magnet for the diehards — men like Howard, who fell in love with cars after his family stopped riding horses into town in the 1950s. These are men who could walk by a box of scrap and know from just a glance that the part sitting on top was a blower motor for a '49 shoebox Ford. Men who have memorized shapes, forms and chrome pieces to identify hoods, fenders and bumpers that sit alone in a field. Men who know that a gas tank on a '26 Model T is in front of the windshield.
Keith said he never sold a car during swap meet week, but those are some of the days he'll remember most.
"They would just stop by," Keith said. "The wives would sit in the car for an hour and the men would walk through. They'd tell me about the car they had at home and we'd just talk and reminisce for an hour or two. Those were the fun days."
•••
Keith Smith has seen the ups and downs in the car business before. He began working on the car lot at 13, hoping each day that his dad would let him get behind the wheel to park one of the new arrivals.
By the time he graduated high school, he already had owned eight cars. Over the next 22 years, he'd buy another 170. At that point — it was 2001 — he decided he might as well officially get into the car business, so he stopped his dad's plan to sell out and took over the business himself.
But this economic downturn is different. Keith, 45, estimates the market for old cars is down by half to two-thirds — despite the fact many older cars will appreciate in value by 5 percent a year or more, if they're maintained well.
"I just figured I'd better get out while I can still swim out instead of float out," Keith said.
Plus, Keith and Howard said it was getting harder to find cars to sell. Each year, a few classics are lost to accidents, fire, rust.
Perhaps the Mustangs, the Corvettes, the Chargers of today will draw collectors in the future, Keith said. But many of the classics that have gone through the lot at H.Z. Smith Motors were just standard family cars back in their era.
Will anyone 35 years from now really be collecting a 2005 Ford Taurus?
"God, I hope not," Keith said.
So who is going to lose more as places like H.Z. Smith Motors dwindle away? Men like Keith and Howard, or future generations that won't ever experience how a classic car can take you back in time?
Keith doesn't know. He's just glad the business has given him all that it has.
"On a bad day," Keith said, "I could always crawl in something like that '71 Monte Carlo sitting there in the shop with a 402 big block, and open that thing up on 10 highway. The day would just kind of go away behind you."
Yeah, it will be for sale today. In the end, everything's for sale.
Copyright 2018 The Lawrence Journal-World. All rights reserved. This material may not be published, broadcast, rewritten or redistributed. We strive to uphold our values for every story published.