Photo Gallery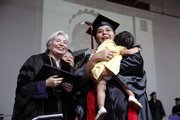 2009 Haskell graduation
Old pictures of Haskell Indian Nations University flashed up on a large screen in Coffin Sports Complex on Friday during the university's commencement ceremony, and nearly every speaker referenced history in some way or another.
As Haskell looked back and marked its 125th anniversary, graduates from 2009 looked forward to the rest of their lives.
After all the pomp, circumstance and ceremony had concluded, Ambrose Sisto paused for a moment outside the basketball gym to do both.
"I'm the first in my family's generations to get a college degree," said Sisto, a member of the Nez Perce tribe from Lapwai, Idaho, who had just received his bachelor's degree in business management. "It's important to me because nowadays in order to be productive in this world, you need a degree."
Sisto, like some other members of his graduating class, will be returning to work in his community after graduation, though he said he eventually wanted to attend graduate school in business.
Haskell University President Linda Sue Warner also expressed an appreciation for all the graduates who had passed through the university before this year's class.
"From the moment your family packed you up and sent you out to Lawrence, Kansas, you became a part of Haskell's history," she said.
She and Clarena Brockie, president of the Haskell Board of Regents, congratulated the recipients of 110 associate's degrees and 77 bachelor's degrees in the university's class of 2009, some of whom wore traditional regalia.
As the graduates' names were read, the reader also added a personal message from the students, many of which indicated their future plans.
Many indicated a desire to teach or to attend graduate school. Others were more vague.
"Keeping it real, holding it down," indicated one graduate.
Another referenced a desire to begin work on his first million dollars.
"This is for my grandma, who graduated 50 years ago today," said another woman.
The graduates came from all over the United States, some from as far away as Alaska.
At the ceremony, the university honored Venida Chenault, the university's vice president for academic affairs, as its 2009 Outstanding Alumna. Haskell also recognized outgoing Kansas University leaders Chancellor Robert Hemenway and Provost Richard Lariviere, giving each a gift as they prepare to leave their jobs this summer.
MayAnne Mitchell received the university's Student of the Year award and relayed advice a professor gave her to the assembled crowd.
She said there were three types of people in the world: those who made things happen, those who watched things happen and those who asked "what happened?"
"Our young native people have sat back for too long and watched things happen," she told her fellow graduates. "Let's make things happen."
Copyright 2018 The Lawrence Journal-World. All rights reserved. This material may not be published, broadcast, rewritten or redistributed. We strive to uphold our values for every story published.