Lawrence Reunion
Who: Salty Iguanas, Lonesome Houndogs
When: 10 p.m. today
Where: The Bottleneck, 737 N.H.
Ticket info: 841-LIVE
Who: Baghdad Jones, Caribe
When: 10 p.m. Saturday
Where: The Jazzhaus, 926 1/2 Mass.
Ticket info:749-3320
Saturday Burcham Park Schedule:
11 a.m. drum circle
1 p.m. Come Back To Me Terra Verde
2 p.m. Kayla Jacobs
3 p.m. The Gloves
4 p.m. Darrell Lea
5 p.m. Kawdaddies
6 p.m. Cryin Out Loud
-->
-->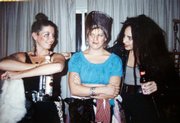 College students of today may find it hard to believe that a generation ago, the Lawrence music scene was as good, if not better, than it is now.
Back before iPods, downloadable ringtones and YouTube. Back before the dominance of the DJ culture. Back when the word "Baghdad" wasn't so rife with other implications, the majority of the club scene was based around going to bars to watch local bands.
Oddly enough, it was Lawrence-based bands that routinely packed out venues, while the national acts were the ones that struggled to draw crowds.
"There were just so many good musicians playing at that time. There were so many good bands," says Buffy Barton Davis.
During that era, Davis was the singer for Baghdad Jones, a popular Lawrence party band known for its funk/rock grooves and Janis Joplin-esque melodies.
Davis is returning to town along with hundreds of other scenesters of her era for an event titled Lawrence Reunion. For the first time since 1994, the majority of Baghdad Jones members will converge for a concert.
"Most people hate reunions. I love them. I love seeing people again," says Davis, who's lived in New York for a decade. "I hope my voice doesn't sound 20 years older."
Baghdad Jones is one of four bygone actss coming together as part of the weekend. Others include Caribe, Lonesome Houndogs and Salty Iguanas.
Ironically, this whole idea of a late '80s/early '90s scene reunion was fostered by that most modern of cultural devices: Facebook.
Davis recalls, "Somebody sent my friend Jackie Denning a picture of Baghdad Jones (who posted it on Facebook) and commented, 'It would be great if the band got back together.'"
Within a few days, more than 50 people had contacted her saying she should try and the coax the group into a reunion gig.
"Facebook made it happen. To get these bands back together is a big deal. They're spread throughout the nation," says Tanya McNeely, who co-owns The Jazzhaus, 926 1/2 Mass.
As part of the reunion, McNeely is staging an art show at her venue that features many of the same participants. An opening reception occurs at 7 p.m. and highlights the work of McNeely, Denning, Barry Osbourn, Sara Choler Hale, Neil Stockdall and Jeff Ridgeway. A concert gathering Saturday at Burcham Park is also part of the festivities.
Sin city
Denning is considered the brainchild behind the elaborate reunion.
"Most of the people I hung out with were college girls in the art scene, but the guys were musicians who were older than us. A regular college reunion would not have gathered our crowd appropriately," Denning says.
The current Florida resident says her gang of girlfriends were best known by their well-deserved nickname: Sin Sisters.
McNeely recalls, "It started with me and Nicki Geist. Everyone was always asking, 'Are you sisters?' Someone said we were Sin Sisters, and that name stuck. It was like our own sorority. We were all about live music."
Denning, a 1991 Kansas University graduate in textile design, decided to stage the reunion this particular weekend for "selfish reasons."
"I wanted to also be in town for Art in the Park," she says of last Sunday's event. "I was very impressed with all the people who came to Art in the Park. Everybody was very hip-looking, very forward-looking. It made me realize what I loved about Lawrence. I think back in the day I got myself into some trouble, and maybe my memories were skewed of Lawrence."
Denning left Lawrence in 1992 and "never looked back." She currently splits her time working as an artist and at a health food store.
"Subconsciously, I put on this reunion because I always wanted to design a poster," she quips.
She also wanted to help out fellow Sin Sister Davis, a former roommate of hers in New York.
"Buffy had always wanted a Baghdad Jones reunion," Denning says. "I knew this would make her happy."
Blast from the past
Davis also graduated KU in 1991, armed with a religious studies degree.
However, she stuck around Lawrence for three years pursuing her dreams of a music career.
Coupled with strong regional performances (opening for the Neville Brothers at Liberty Hall was among the highlights), Baghdad Jones began to earn interest from record labels after a showcase at the prestigious South By Southwest Music Festival in Austin, Texas. The band's management determined that in order for the act to jump to the next level, certain changes were required. Suggestions ranged from revamping the lineup to Davis whitening her teeth.
"I think we got close to getting signed, and that kind of broke us up. Bands think somebody is going to sign them and it will be easy, but it never is," she says.
The singer left Lawrence in 1994, eventually ending up in New York. Now a married mother of two, Davis spent several years as the personal assistant to actress Kate Hudson. Currently, she works as a costumer for Broadway and film.
Davis admits she is "very nervous" about singing live again. She is proud that half of the material she'll be performing is original, culled mainly from the group's 1993 album "Beautiful Day."
"Baghdad was the first and only band I've ever been in. I never thought we'd get back together, so this is exciting for everybody," Davis says. "It's one big fat blast from the past."
Denning adds, "I think of it as being a full-circle kind of thing. It was a really big part of my life that I walked away from. I turn 40 this year. I had such intense relationships, and I feel a lot of love again, you know?"
Copyright 2018 The Lawrence Journal-World. All rights reserved. This material may not be published, broadcast, rewritten or redistributed. We strive to uphold our values for every story published.