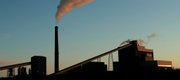 After months of debate and legislative battles, Sunflower Electric Power Corp. will be allowed to build a new, coal-fired power plant in Southwest Kansas. Trace the history of the disagreement and look back on how we got here.
Topeka — A bill pushed by Gov. Mark Parkinson to pave the way for a new coal-fired power plant in southwest Kansas is halfway to his desk.
The Senate approved it on a 37-2 vote Thursday night, sending the measure to the House, where leaders also expect little opposition when it comes up for a vote today.
The bill contains renewable energy proposals backed by Parkinson, who made its passage a condition for allowing Sunflower Electric Power Corp. to build an 895-megawatt power plant near Holcomb in Finney County.
The legislation requires all utilities to generate 20 percent of their electricity from renewable sources by 2020. It also contains other "green" provisions, including incentives for consumers to use wind- and solar-powered generators and use of alternative fuels.
The bill not only would end a 19-month political standoff but also settle the litigation by Sunflower, which maintained the state overstepped its authority in denying a needed air quality permit in October 2007.
During debate, Sen. Marci Francisco, a Lawrence Democrat, failed in efforts to rewrite portions of the bill.
"This is the result of an agreement that was the result of litigation. Changing this legislation could have a significant effect on the settlement agreement," said Senate Utilities Chairman Pat Apple, a Louisburg Republican.
Francisco and Sen. David Wysong, a Mission Hills Republican, were the only ones voting against the bill. Sen. David Haley, a Kansas City Democrat, was absent.
Sen. Jean Schodorf, a Wichita Republican, characterized the bill as good compromise, adding, "It means cleaner air and more jobs."
"It's a major step forward in the quest for a comprehensive energy plan and energy security for the state," said Senate President Steve Morris, a Hugoton Republican whose district includes Holcomb.
Parkinson began negotiating with Sunflower hours after he become governor April 28, when Kathleen Sebelius resigned to become U.S. secretary of health and human services.
The Hays-based utility initially planned to build two coal-fired plants in southwest Kansas. But Health and Environment Secretary Rod Bremby denied Sunflower an air-quality permit over environmental concerns.
Legislators passed three bills last year to overturn the denial and a fourth this year, but Sebelius vetoed them all.
The single power plant could generate enough electricity to meet the peak demands of 448,000 households. Plans also call for construction of two transmission lines, each capable of carrying 1,000 megawatts into Colorado. Those lines are vital to the future growth of wind power in the state.
Sunflower would sell 78 percent of the new power to two out-of-state electric cooperatives helping to finance the project. They are Tri-State Generation and Transmission Association Inc. of Westminster, Colo., and Golden Spread Electric Cooperative in Amarillo, Texas.
"It's still the best long-term resource option available to anyone in the region," said Earl Watkins, Sunflower president and CEO.
The plant also is seen as economic development for western Kansas, with some 1,500 construction jobs for the four years needed to build the plant. Construction could start by the end of 2010.
Sunflower agreed to take steps to offset the plant's potential CO2 emissions that include setting up new wind-powered generators and using biomass fuels such as waste wood. And the provisions of the Senate bill are stronger than ones previously approved by legislators.
But the Sierra Club's state chapter has called the agreement "a giveaway to the coal industry" and the Great Plains Alliance for Clean Energy said it's the wrong time to build more coal-fired plants.
Opponents also have noted that while the agreement bars Sunflower from trying to build a new plant for two years, it could try after 2011. Watkins said there are no such plans.
Copyright 2018 The Associated Press. All rights reserved. This material may not be published, broadcast, rewritten or redistributed. We strive to uphold our values for every story published.