Photo Gallery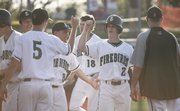 Free State baseball vs. Shawnee Heights
Free State High's Austin Holladay picked a heck of a time to snap the Firebirds' season-long homerless streak.
Wednesday, with Free State trailing Shawnee Heights by two runs with two outs in the bottom of the sixth inning, Holladay stepped into the batter's box with second- and fourth-inning strikeouts fresh in his mind.
Instead of giving in and letting a rough day at the plate become rougher, the junior utility man stayed mentally strong and showed he had a little physical strength in the tank, as well, lifting a fastball 380-plus feet over the left-center-field fence for a three-run home run that gave FSHS a 3-2 victory at home.
"Ever since the beginning of the year, I've played out that exact scenario in my head," Holladay said. "Before school, before I went to bed, I've always wanted to be in that position, and today I got my opportunity."
There are a few other Firebirds who deserve some of the credit for that.
From the outset, assistant coach Bobby Nichols sensed something special was going to happen, predicting before the game that either Holladay or Cody Kukuk would hit a home run.
After Preston Schenck led off the inning with a walk, he was punched out at second on a groundball from Kukuk, who hustled safely into first. Catcher Adam Petz followed with a single, and Ryan Scott's groundout to second moved the runners to second and third. At that point, Holladay, the team's designated hitter, did what he does best — he hit.
"Every day in batting practice he absolutely crushes the ball," second baseman Tyler Hatesohl said. "He definitely has some pop and he came up huge for us today."
Hatesohl, the lone senior honored on Senior Day, also had a little to do with the outcome. He made several critical defensive plays behind pitchers Colin Toalson and Rob Wagner, who used everything in their arsenal to keep Free State close.
"A very important part of the game was Toalson's ability to give us four innings and keep us in the ballgame," FSHS coach Mike Hill said. "And I thought (Wagner) did a really good job for us today, too."
The six strong innings from two unlikely sources — Toalson hadn't pitched an inning all season — set the stage for Holladay's heroics. Scott then picked up the save by putting two on and striking two out in the top of the seventh.
Without question, though, the story of the day was the mental fortitude shown by Holladay and one sweet swing that gave the Firebirds (12-2) a much-needed victory and their first home run of the season.
"It was a big lift for us, but that's what we expect each other to do," Holladay said. "Make plays and win games."
Copyright 2018 The Lawrence Journal-World. All rights reserved. This material may not be published, broadcast, rewritten or redistributed. We strive to uphold our values for every story published.