Photo Gallery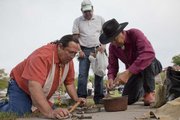 Haskell tree blessing ceremony
Members of the Haskell Indian Nations University community on Wednesday took part in a tree blessing ceremony for 20 new trees donated by Black Hills Energy Corp.
The trees were mostly clustered in front of Osceola-Keokuk Hall, and were each "adopted" by the community.
Siblings Alta Cobell and Jay Pewenofkit from Eudora adopted a tree in memory of their father, Amos Pewenofkit Jr., who played football at Haskell in the 1960s.
The siblings said they were motivated to adopt a tree — a Snowdrift Crabapple — to preserve their father's memory.
"They last a long time," Cobell said. "Enough for our kids later on to remember that we adopted a tree on behalf of their grandfather."
All trees also came with a plaque and a name of the tree in the native language of the families who adopted them. Cobell and Pewenofkit sought out Comanche elders to get the proper spelling of the tree to place on the plaque in the Comanche language.
Elder Benny Smith performed a tree blessing ceremony for each of the trees Wednesday morning before a luncheon for all the participating members.
Smith is retired from Haskell after 32 years of service, most recently as a director of counseling services for the university. He said he performed a blessing universal among many different tribal groups for each of the trees.
Copyright 2018 The Lawrence Journal-World. All rights reserved. This material may not be published, broadcast, rewritten or redistributed. We strive to uphold our values for every story published.