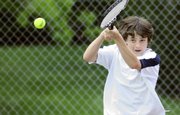 Between football, basketball and forensics obligations, little time remains for Seabury Academy sophomore Skyler Malone to focus on his tennis game during the year.
"I kind of figured it would be a little difficult because I knew I was going to be playing some tougher guys who play all year round," Malone said. "I play three different sports, so it's hard to go out and practice every day."
On Monday afternoon, Malone learned firsthand the difference between the three-month competitors and the year-round players. He gave up a three-game lead and fell at No. 3 singles in one of the Seahawks' closest matches on their home courts.
Ultimately, Seabury dropped a 9-0 decision against Maranatha Academy.
"This team that we played today was by far the best competition we've seen all year," Seabury coach Scott Elwell said. "If you look at some of these other kids, their top five guys play year-round. They all have private coaches."
Part of the dilemma facing Seabury's tennis players is a unique rule put in place at Seabury that requires all students to participate in at least one after-school program per trimester. Students can mix and match athletics with drama and theater, forensics and journalism programs.
That makes finding time for one particular sport more difficult.
"I think that makes for well-rounded kids," Elwell said. "I like the fact that here they have to be involved. You can't just slip through the cracks and coast through high school."
Malone said he enjoyed having so many options. As for his tennis game, he said that had improved greatly over the course of the season.
On Monday, Malone led Maranatha's Matt Metcalf, 4-1, before Metcalf won seven of the next eight games to win, 8-5.
"He just started lobbing it over the top of me, and I couldn't adjust," Malone said. "I came out strong, and he figured my game out."
At No. 4 singles, Seabury's Zach Silvers fell, 8-5, against Kraig Pierce in the Seahawks' other closest match.
"They just have a lot of good players," said freshman Kansas Fiori-Brown, Seabury's top singles player who lost, 8-0. "They have more experience."
Still, Elwell cited his team's vast improvement during the year. This is only the second season that Seabury has fielded an all-boys tennis team.
"I think that if our team played our team from last year, we would dominate that team," Elwell said. "That makes me feel good. It's going to be a process really getting these kids on board with playing year-round and getting to the point where they feel confident that they can win."
Seabury takes on K.C. Sumner on Wednesday in the regular-season finale and could see Maranatha again on Thursday. That's when the Seahawks begin the eight-team Class 3-2-1A Marysville regional.
"These next couple of days we've got to come out and practice hard," Malone said, "and come regionals, we've just got to fight."
Copyright 2018 The Lawrence Journal-World. All rights reserved. This material may not be published, broadcast, rewritten or redistributed. We strive to uphold our values for every story published.