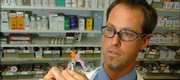 An outbreak of H1N1 Swine Flu was reported in Mexico in April 2009. By the end of May, it had spread across the U.S., with all 50 states reporting cases.
Mexico City — The swine flu epidemic spread deeper into the United States, Europe and Latin America — and in Canada, back to pigs — even as Mexico's government hinted Sunday it may soon be time to reopen businesses and schools in the nation where the outbreak likely began.
The virus spread to Colombia in the first confirmed case in South America, worrisome because flu season is about to begin in the Southern Hemisphere. More cases were confirmed in Europe and North America; health officials said at least 1,000 people have been sickened worldwide.
Dr. Richard Besser, acting chief of the U.S. Centers for Disease Control and Prevention, said swine flu is spreading just as easily as regular winter flu.
"The good news is when we look at this virus right now, we're not seeing some of the things in the virus that have been associated in the past with more severe flu," Besser said. "That's encouraging, but it doesn't mean we're out of the woods yet."
On Sunday, health officials raised the number of confirmed U.S. swine flu cases to 245 in 35 states. The new number, up from 160 on Saturday, reflects streamlining in federal procedures and the results of tests by states, which have only recently begun confirming cases, said Dr. Anne Schuchat of the CDC.
Mexican President Felipe Calderon said a nationwide shutdown and an aggressive informational campaign appeared to have helped curtail the outbreak in Mexico.
"We have succeeded in detaining or at least slowing the spread of the virus precisely because the measures have been the correct ones," Calderon said in an interview with state television broadcast Sunday night.
Mexican Health Secretary Jose Angel Cordova said the virus had killed at least 22 people in Mexico, raising the toll from 19. The last confirmed death occurred April 29, he said.
Cordova added that the virus had sickened at least 568 people and apparently peaked in Mexico between April 23 and April 28, slowing after the drastic nationwide closings of schools, theaters and businesses.
"The evolution of the epidemic is now in its declining phase," Cordova said.
He said officials would decide today whether to extend the shutdown or allow schools and businesses to reopen.
Pablo Kuri, an epidemiologist advising Cordova, told The Associated Press on Sunday that tests have confirmed a swine flu death in Mexico City on April 11, two days earlier than what had been believed to be the first death.
Kuri also said there have been no deaths among health care workers treating swine flu patients in Mexico, an indication that the virus may not be as contagious or virulent as initially feared.
Copyright 2018 The Associated Press. All rights reserved. This material may not be published, broadcast, rewritten or redistributed. We strive to uphold our values for every story published.