On the street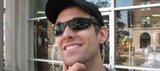 My parents started me off on an allowance … and I learned if you buy the cheap toy, it's going to break, so save your money and buy the better-quality toy later.
Broken Arrow School kindergartners got their money's worth in a lesson on banking.
The students learned the nuts and bolts of dollars and cents on Monday from Terri Pippert, a business banking officer from U.S. Bank.
"(We're) teaching them the importance of savings and money and learning about loans," she said. It's part of a nationwide program called "Teach Children to Save."
Here's what some kindergartners know about money:
• Casurne' Spates thinks a good allowance would be $2,000 a day for six days a week. "I want to save it," she said.
• Maya Perez thinks $4,000 a week is a good allowance. She would "spend it" on a car, which would cost her $3,000.
• August Frace is about to get another visit from the Tooth Fairy. He gets $1 per tooth. "My mom just takes me to the store and I buy something," he said.
• Curtis Kegin is saving up for a big purchase, but he finds the task — like a lot of grownups — difficult. "I like money. I think it's cool. I want to buy (stuff), but I want to buy a Nintendo DS."
Copyright 2018 The Lawrence Journal-World. All rights reserved. This material may not be published, broadcast, rewritten or redistributed. We strive to uphold our values for every story published.