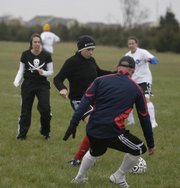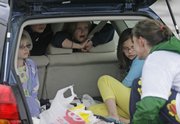 They may drive mini-vans or SUVs and haul their kids to and from soccer practice, but don't you dare call these mothers "soccer moms."
"I am what I am," 45-year-old Lawrence mom Colleen Harrell says. "I drive an SUV. I have soccer and softball stickers all over it. If that's a bad thing, then, oh well."
But Harrell is among a growing number of women, who instead of just pacing the sidelines watching their kids have all the fun, have decided to lace up their cleats, strap on the shin guards and give the sport of soccer a try.
"I did not play growing up," Harrell says. "I'm a native Kansas girl, and we didn't have soccer in Kansas in the '70s. Girls' sports at my high school were confined to volleyball and basketball."
So when she had two daughters of her own, Harrell wanted to make sure they didn't miss out on the opportunity to play.
"Soccer is just a great sport," she says. "I was determined when I had kids that they'd be active. They started out in kindergarten playing soccer, both my girls did."
Harrell was always involved, taking her daughters Bailey, 14, and Madison, 12, to their practices and games. She currently serves as team manager for both girls' teams.
But Sundays are her days, as she and other moms take the field, participating in the Lawrence Adult Soccer League's recreational division. And you don't have to have moves like Mia Hamm to take part.
"I'd never touched a soccer ball before playing," Harrell says. "I learned the game from watching the kids. Playing myself has given me a greater appreciation for what they do out on the field."
Mother of two Stacey Wohlford, 37, recently found her way back to the soccer field after taking 27 years off.
"I'm playing again because my brother and husband wanted to join a co-ed team," Wohlford says. "I did it reluctantly, but I am so glad I did."
After not touching a soccer ball since about the fifth grade, Wohlford says she plays now to stay in shape but more importantly to have fun. It's the one time out of the week, if only for about 90 minutes, that she has to herself. Although during a recent game she did have to take a break to take her 6-year-old daughter to the port-a-potty.
"Every mom should have something to do, apart from their kids, just for themselves," Wohlford says, "and I highly recommend a good thrashing game of soccer."
Most of the moms bring their kids along to watch them in action.
"I think it's great for them to see that soccer and sports aren't just something you do in school when you're young," Wohlford says.
Sossina "Nini" Negash, 35, says her kids are her biggest fans.
"My children are proud to have a soccer-playing mom," Negash says. "My son brags to his friends about (me)."
Despite growing up in Ethiopia where soccer is one of the most popular sports, Negash didn't really start playing until about 16 years ago when she moved to Lawrence to attend Kansas University.
Now she can't get enough of it.
"My soul loves playing," Negash says.
She would encourage other moms to take up the sport, too.
"I am constantly trying to recruit other moms into playing soccer," Negash says. "All the women I have gotten to come out to play have stuck with it. It is simply a great sport that keeps you moving and thinking."
So, call them "soccer moms" if you must.
"I'm proud to be a soccer mom, frankly," Harrell says. "My kids are active, and I think I've set them up for a lifetime of physical activity. It will just be a part of their lives."
Negash adds: "I don't have a problem with the term soccer mom. I just simply tell them that I am a soccer-playing soccer mom."
But just remember, they could probably take you if you ever wind up going head-to-head on the soccer field.
"I say, 'Bring it on,'" Harrell says.
Copyright 2018 The Lawrence Journal-World. All rights reserved. This material may not be published, broadcast, rewritten or redistributed. We strive to uphold our values for every story published.