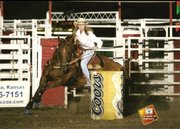 Roundup
About 60 rodeos are held annually in Kansas. Most of them are between spring and fall. Ticket prices vary greatly. Some rodeos offer free admission for children on certain nights, while others have prime seats booked six months in advance at $20 per ticket. Most tickets range between $5 and $10. Here are just a few of the rodeos scheduled this summer: • Tonganoxie — May 21-23. • Garden City — June 11-13. • Hays — July 14-15. • Pretty Prairie — July 15-18. • Manhattan — July 23-25. • Colby — July 27-28. • Abilene — July 29-Aug. 1. • Phillipsburg — July 30-Aug. 1. • Elkhart — Aug. 7-8. • Longford — Sept. 4-5.
The gate opens and out comes a cowboy on a bucking bull. The crowd claps and hollers for the cowboy as he tries to hold on with one hand for 8 seconds.
Once the ride is over, clowns distract the raging bull with barrels and gadgets as the cowboy makes it to safety.
Welcome to the rodeo.
"It's unlike any other sport," said 21-year-old Jessa Perry, of Longford. "You never know what's going to happen. It's the only sport that I know of where a 200-pound guy gets on a 2,000-pound animal and actually competes against an animal instead of each other."
Perry has grown up around rodeos.
At age 3, she participated in the annual Longford Rodeo's barrel race event, and she's been hooked since. In barrel racing, a rider and her horse attempt to complete a pattern around barrels in the fastest time.
"A lot of people think you just get on and you just go and that the horse knows where to go. But, it's an art," Perry said. "It's about I've got to slow this particular horse — that I am riding — down here. Every horse rides different."
Bull riding and barrel racing are just a couple of the traditional events that can be seen at the 60 rodeos held annually across Kansas. They also feature calf roping, steer wrestling, saddle bronc riding and bareback riding.
"It's good family entertainment," said Rod Innes, president of the Phillipsburg Rodeo Association. "It's watching cowboys compete on a one-on-one basis. The advantage always goes to the livestock, and it's up to the cowboy to overcome that disadvantage."
Phillipsburg, a small town in northwestern Kansas, puts on the state's biggest rodeo. The town swells to three times its size as 15,000 people attend the three-day rodeo in late July.
Entertainment
Rodeo competition is tough, but often there are events for children and young adults looking for a little adventure.
Sue Kingsolver, McLouth, the mother of professional bullrider Keith "Skeeter" Kingsolver, recalled attending a rodeo that featured a contest involving chickens.
"They put them chickens out there, and the kids were going crazy trying to catch those chickens. It was hilarious," she said.
The Longford Rodeo features a special act. Last year, the One Arm Bandit and Company stole the show with stunts involving horses, buffalo and a stock trailer. This year, the rodeo will feature Ghost Riders or little monkeys that ride on dogs.
"It is interesting to see what people can do with their animals," Perry said. "A lot of people will come just to see the acts."
She said the Longford Rodeo attracts about 4,000 people to the tiny north-central town during Labor Day weekend each year.
Friendly atmosphere
Often, rodeos are held in conjunction with other community events — parades, barbecues, dances, fairs and carnivals.
Jody Schwartz has helped organize the state's Largest Night Rodeo in Pretty Prairie for 20 years. The annual rodeo — in mid-July — draws about 18,000 people to the south-central town of about 600 people. There is a dance after the rodeo on Friday and Saturday night that features a live band.
He described the annual event as festive, patriotic and the highlight of every summer since he was a child.
"It's kind of like a local reunion and everybody comes home for the rodeo," he said.
And many say you can't beat the friendly faces and atmosphere of a rodeo.
"There are good, old-fashioned values at a rodeo," Kingsolver said. "You know, 'Yes, ma'am and yes, sir.' I like that. You don't find that too much these days and so it really is a good atmosphere."
Copyright 2017 The Lawrence Journal-World. All rights reserved. This material may not be published, broadcast, rewritten or redistributed. We strive to uphold our values for every story published.