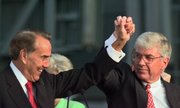 Washington — Jack Kemp, the ex-quarterback, congressman, one-time vice-presidential nominee and self-described "bleeding-heart conservative," died Saturday. He was 73.
Kemp died after a lengthy illness, according to spokeswoman Bona Park and Edwin J. Feulner, a longtime friend and former campaign adviser. Park said Kemp died at his home in Bethesda, Md., in the Washington suburbs.
Kemp's office announced in January that he had been diagnosed with an unspecified type of cancer. By then, however, the cancer was in an advanced stage and had spread to several organs, Feulner said. He did not know the origin of the cancer.
Senate Republican leader Mitch McConnell, R-Ky., called Kemp "one of the nation's most distinguished public servants. Jack was a powerful voice in American politics for more than four decades."
Former President George W. Bush expressed his sorrow after hearing of Kemp's death.
"Laura and I are saddened by the death of Jack Kemp." he said. "Jack will be remembered for his significant contributions to the Reagan revolution and his steadfast dedication to conservative principles during his long and distinguished career in public service. Jack's wife Joanne and the rest of the Kemp family are in our thoughts and prayers."
Family spokeswoman Marci Robinson said Kemp died shortly after 6 p.m. surrounded by his family.
"During the treatment of his cancer, Jack expressed his gratitude for the thoughts and prayers of so many friends, a gratitude which the Kemp family shares," according to a family statement.
Kemp, a former quarterback for the Buffalo Bills, represented western New York for nine terms in Congress, leaving the House for an unsuccessful presidential bid in 1988.
Eight years later, after serving a term as President George H.W. Bush's housing secretary, he made it onto the national ticket as Bob Dole's running-mate.
With that loss, the Republican bowed out of political office, but not out of politics. In speaking engagements and a syndicated column, he continued to advocate for the tax reform and supply-side policies — the idea that the more taxes are cut the more the economy will grow — that he pioneered.
Feulner, president of the Heritage Foundation, a Kemp family friend and his former campaign deputy chief of staff, said Kemp's legacy will be his compassion.
"The idea that all conservatives really should regroup around and identify with is that this is not an exclusive club," Feulner said. "Freedom is for everybody. That's what Jack Kemp really stood for."
Kemp's rapid and wordy style made the enthusiastic speaker with the neatly side-parted white hair a favorite on the lecture circuit, and a millionaire.
His style didn't win over everyone. In his memoirs, former Vice President Dan Quayle wrote that at Cabinet meetings, Bush would be irked by Kemp's habit of going off on tangents and not making "any discernible point."
Copyright 2018 The Associated Press. All rights reserved. This material may not be published, broadcast, rewritten or redistributed. We strive to uphold our values for every story published.