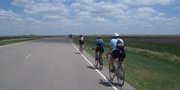 Miles of tree-lined trails dotted with quaint towns, smooth paved roads that roll over rural hills or single-track dirt paths littered with rocks and steep climbs. Name your surface and scenery, and chances are the region has a bike route fit for you.
Rail to Trail rides
Paul Davis, general manager of Sunflower Outdoor & Bike Shop in Lawrence, hates to point people across the state line when recommending one of his favorite rides. But it's hard not to when Missouri is home to the Katy Trail State Park, a 225-mile path that runs from St. Charles to Clinton along an old railroad track.
Following the Missouri River for much of the route, the Katy Trail is sandwiched between water vistas and towering bluffs. According to the state park's Web site, the trail winds through dense forests, wetlands, deep valleys, remnant prairies, open pastureland and gently rolling farm fields.
Along the way, the trail is dotted with quaint historic towns, among them the town of Hermann, filled with rich German heritage and in the heart of Missouri's wine country. Many towns have hotels, bed and breakfasts and tour guides that shuttle bikers from town to the trails.
"You've got taverns and eateries and wineries along the way," Davis said. "You can just kind of meander along; it's a nice little trip.
Davis did a three-day trip that covered the entire trail, but that isn't the only way to see it.
"This is at the top of my list because it has the most options and is something you can almost go back to a handful of times and do different segments of," Davis said.
The start of the Katy Trail in Clinton, Mo., is less than an hour and half from Kansas City, Kan. Mountain bikes, hybrid bikes or road bikes with thick tires work best on the crushed limestone surface.
If you want to stay in state, bikers can find a slightly similar version of the Katy Trail on a 51-mile pathway running from Ottawa to Iola. Last August, the Prairie Spirit Rail-Trail expanded by 18 miles when a new section from Welda to Iola opened. Also built on a railroad bed and covered in crushed limestone, the Prairie Spirit Rail-Trail is mostly flat.
With the exception of portions of the trail that run through Garnett and Ottawa, users older than 15 must pay a fee to be on it. A daily permit is $3.50 and a yearly permit $12.15.
Road Rides
If you want to hit the road, great routes for road bikers abound in Kansas.
Randy Breeden, a former president of the Lawrence Bicycle Club who averages 5,000 miles on his bike a year, recommends checking out organized rides in Kansas.
One of his favorites is the Cottonwood200. As the name suggests, the ride covers 200 miles in three days, taking bikers on a loop from Topeka to Council Grove to Cottonwood Falls on paved scenic byways. The ride takes place over Memorial Day weekend.
"Going through the Flint Hills in the spring is just gorgeous," Breeden said.
The event is not a race. Registration costs $79, which includes food and water at rest stops, Sunday breakfast and dinner, and overnight accommodations at Council Grove Middle School.
Another great ride, Breeden said, is biking from Leavenworth to Weston, Mo. Much of the ride is on two-lane highways without shoulders and with heavy traffic. But, Breeden said motorists are considerate. For a nice weekend morning trip, Breeden recommends heading to Weston, grabbing breakfast and then turning back to Leavenworth. He does have some words of caution, however.
"Once you get around Weston, it's extremely hilly and very challenging," he said.
And of course, for the Lawrence resident great rides can be found right outside one's back door.
The Octoginta, a ride that wraps its way around 80 miles of northeast Kansas, is held in Lawrence every fall. And a slightly less ambitious event, Lizard under the Skillet, is every July in the peak of summer's heat.
Mountain Bike Trails
Those wanting to get a little dirty have plenty of mountain bike trails to choose from in the region.
The Lawrence River Trail, which begins in a North Lawrence city park and is sandwiched between the Kansas River and levee trail, is a nice way to ease into mountain biking. The nine-mile loop is fairly flat. For those looking to beef up the excitement, log obstacles can be found off to the side every couple of miles.
For even more action, the 20 miles or more of trails skirting Clinton Lake's north shore aren't for the faint of heart. Scattered with rocks and steep inclines, the trail is a technical one. The middle and end of the trail are less challenging.
When it comes to single track trails, one of Davis' favorite spots is Perry Lake. Designed specifically for competitive level mountain biking, the 24 miles of single track are a nice combination of rocky, technical climbs mixed with stretches of rollers to help riders recover. And, along the way the scenery isn't bad with glimpses of the lake and some medium-sized cliffs to give riders a sense that they aren't in Kansas anymore, Davis said.
"There are sections every bit as technical as Clinton and just as fun as the river trails," Davis said. "I like it because it's a nice mix of all the kinds of riding Kansas can provide."
Copyright 2018 The Lawrence Journal-World. All rights reserved. This material may not be published, broadcast, rewritten or redistributed. We strive to uphold our values for every story published.