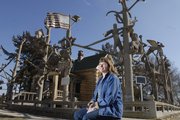 On Oct. 5, 1892, eight people were killed and three were wounded during a gunfight that broke out between a number of Coffeyville residents and five bank robbers, three of whom were brothers by the last name of Dalton.
The Dalton brothers — Bob, Gratton and Emmett — and their two accomplices, Bill Power and Dick Broadwell, had tried to rob two banks at once, but were met with angry armed townspeople as the bandits exited the banks.
The city of Coffeyville has done much to commemorate this event, such as erecting the Dalton Defenders Museum, which contains some of the original guns from the fight, the original vault doors from the banks where the attempted robberies took place and even burial records of the victims.
The quirky site isn't the only one in Kansas. Here are others:
World's Largest in miniature
The town of Lucas has become almost synonymous with a well-known quirky site, the Garden of Eden. But it is also home to the World's Largest Collection of the World's Smallest Versions of the World's Largest Things. This collection of miniature versions of some of the world's largest attractions was created by artist Erika Nelson and is housed in a 1984 Ford Econoline bus.
Nelson bought the 16-seat bus in 2000 as a way to haul some of her large-scale work. A year later, however, it became her home for two years as she traveled the United States seeking out cities that would provide inspiration for her growing interest in creating miniaturized versions of the world's largest.
The majority of the collection is hand-crafted by Nelson and includes such attractions as the world's largest artichoke, from Castroville, Calif., the world's largest ball of popcorn, from Sac City, Iowa, and the world's largest eight-ball, from Tipton, Mo. Each piece has this stamp of authenticity as well:
"I don't make my small version until I've actually seen the world's largest thing for myself," Nelson said.
After creating more than 80 of these miniatures, Nelson opened the bus up for exhibit — a traveling one. It is now parked permanently at Nelson's house in Lucas, which is, coincidentally, right next door to the Garden of Eden.
Admission: Free
Hours: Anytime. Nelson keeps it parked where it can easily be viewed.
Phone number: 785-760-0826
Greensburg's well
Though it suffered damage from the 2007 tornado, the world's largest hand-dug well is available for viewing in Greensburg.
The well, started in 1887 and completed a year later, is 109 feet deep, 32 feet across and still has 15 feet of water in the bottom of it. Gift-shop clerk Helen Schrader said it was dug to serve the Santa Fe Railroad and the city of Greensburg and was the main source of water for the city until 1932. In 1937, it was opened for touring. Schrader said before the tornado wiped out most of the town visitors could take a stairway built into the well all the way down to the bottom.
"It's kind of scary," Schrader said. "Some people like it, and some people, like me, start going down and then go, 'Oh, I can't do it.' "
Voted one of the Eight Wonders of Kansas in 2008, Schrader said the well draws about 50,000 visitors a year.
Admission: Free for now. The well is closed for inside touring until some work is complete but visitors can still look down inside it.
Hours: A temporary gift shop is open from 9 a.m. to 5 p.m. Monday-Saturday and 1 p.m. to 5 p.m. Sunday.
Phone number: 620-723-4102
Van Gogh in Goodland
Three of the world's largest easel paintings are copies of some of artist Vincent Van Gogh's Sunflowers series, and one of them is in Goodland. The easel and painting, which can be seen from Interstate 70, have been standing proudly in Goodland for almost eight years. The easel is 80 feet tall and the canvas painting is 24 feet wide and 32 feet tall.
"It's an impressive addition to the skyline," said Darin Neufeld, who was on the original committee, Sunflowers USA, involved in erecting the easel.
Neufeld said officials in Goodland were contacted by artist Cameron Cross in 1999 to see if an easel of this nature would be welcome in the city. The Van Gogh Big Easel project was started by Cross in 1997 as a way to get large-scale replicas of the 19th century painter's sunflower works — only seven have survived — in seven different countries.
Admission and hours: Free and anytime
Phone number: 785-899-7019
'I picked them up'
Truckhenge, in Topeka, was born of a long-standing battle between Topeka resident Ron Lessman and officials in Shawnee County. Lessman's property includes a large floodplain, in which he kept several old trucks. When the county asked him to pick the trucks up and move them because they posed a hazard should the area flood, Lessman said he did just that.
"Well, I picked them up," he said.
The five trucks and a bus making up the display are anchored to the ground on one end by 3,000-pound blocks of cement, eight tons of gravel and one ton of iron. Writings on the vehicles, such as "Rise up" and "Freedom isn't lost," show Lessman's disdain for officials in Shawnee County, or bureaucrats, as he calls them in one graffiti-laden car: "Rome didn't kill Jesus, bureaucrats did."
Lessman said Shawnee County hasn't been too happy with the literal way he has followed orders, but he is using the work, in part, to encourage people to lighten up a little.
"The whole idea is to have a little fun," Lessman said.
Admission: Free
Hours: By appointment
Phone number: 785-234-3486
For more quirky Kansas ideas, visit roadsideamerica.com/location/ks. A listing of novel museums, such as the Vintage Fashion Museum in Abilene and the Martin and Osa Johnson Safari Museum in Chanute, can be found at skyways.lib.ks.us/museums/.
Copyright 2018 The Lawrence Journal-World. All rights reserved. This material may not be published, broadcast, rewritten or redistributed. We strive to uphold our values for every story published.