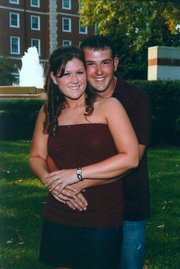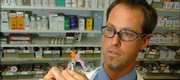 An outbreak of H1N1 Swine Flu was reported in Mexico in April 2009. By the end of May, it had spread across the U.S., with all 50 states reporting cases.
Tonganoxie — Hollie Fritz and Justin Van Dyke, both of Tonganoxie, will exchange vows in just a few days.
However, they're putting a rain check on a honeymoon getaway to Mexico because of swine flu concerns.
Fritz said she researched influenza reports and she and her fiancée decided to cancel plans for a honeymoon trip to Puerto Vallarta, Mexico. Waiting to see whether reports might have been over-exaggerated, Fritz said the situation "seemed to get worse than better."
She canceled travel and hotel arrangements earlier this week, noting that they didn't want to worry about wearing masks or getting swine flu while on their honeymoon.
"After we canceled, I felt a lot better," Fritz said. "We just bought a house. We can take time to move in and not have to worry about going to Mexico."
Fritz said they received airline vouchers and will have a year to schedule another trip. In addition, they received a full refund for their resort accommodations.
The couple is thinking about taking a honeymoon trip in August, but haven't determined their destination.
"It might be Mexico, it might not be," Fritz said.
Copyright 2018 The Lawrence Journal-World. All rights reserved. This material may not be published, broadcast, rewritten or redistributed. We strive to uphold our values for every story published.