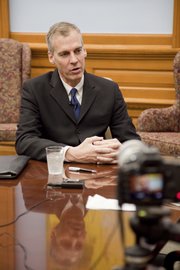 Topeka — The Kansas House on Friday rejected a Republican leadership bill to cut the budget, which Democrats said they hoped would spur interest in smaller reductions and delaying the phaseout of tax breaks for businesses.
"There is a certain desire by a majority of House members to take a different approach," said House Democratic Leader Paul Davis, of Lawrence. "There is concern about the level of these cuts going to the extent that they are really going to hurt state services and cause permanent damage."
Democrats have called for delays in the phaseout of the corporate franchise tax, estate tax, and decoupling the state tax code from federal tax breaks that are directed mostly at businesses.
"We're not asking for a tax increase," Davis said. "We're simply asking for a delay of some of these taxes that are being phased out."
The budget-cutting bill failed on a 53-62 vote with all Democrats in the chamber voting against it, along with a group of mostly moderate Republicans.
But House Speaker Mike O'Neal, R-Hutchinson, didn't think the vote and nearly five hours of debate provided budget-writers with much direction.
"You saw people voting 'no' on a budget, but you didn't see solutions," he said.
The Legislature faces a $328 million budget deficit.
Supporters of the bill before the House said it represented a reasonable balance that avoided tax increases during the state's current economic doldrums.
But even the backers of the bill, under an avalanche of criticism, quickly removed a proposed 5 percent state employee pay cut.
State Rep. Jason Watkins, R-Wichita, who proposed the pay cut in committee, later asked to have it removed, saying he was being "open-minded."
But for many the remaining proposed cuts were too much: $113 million cut to public schools; $29 million to higher education and a 5 percent across-the-board cut to most other areas of state government. This comes on top of cuts already implemented earlier this session.
An amendment proposed by state Rep. Anthony Brown, R-Eudora, made the cuts even deeper by removing an earlier sweep of fee funds from certain agencies.
But in the final vote, the bill was defeated.
State Rep. Tom Burroughs, D-Kansas City, complained that Republicans refused to allow the House Tax Committee to even consider delays on tax phaseouts because of fear of the Kansas Chamber of Commerce.
He suggested replacing the tax committee with the chamber of commerce.
"If you refuse to have a discussion about that nasty three-letter word, called tax, we should be ashamed of ourselves," he said.
But several Republicans said taxpayers shouldn't shoulder the burden of what they called overspending by state government.
Earlier in the day, Gov. Mark Parkinson and representatives of public schools, higher education and health care criticized proposed budget cuts pushed by House Republican leaders.
Further cuts in the administration of the Kansas Health Policy Authority could produce a backlog of 50,000 applications for Medicaid, health officials said.
Meanwhile, six members of the Kansas Board of Regents conducted a news conference decrying the House committee bill that would slice another $29 million from higher education on top of cuts of $63 million over the past several months.
"We are looking at long-term damage for a short-term gain," said Regent Christine Downey-Schmidt.
And public school officials announced that nearly 1,300 school employees have already been laid off because of the current budget crisis, according to a survey by United School Administrators of Kansas.
Copyright 2018 The Lawrence Journal-World. All rights reserved. This material may not be published, broadcast, rewritten or redistributed. We strive to uphold our values for every story published.