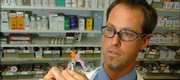 An outbreak of H1N1 Swine Flu was reported in Mexico in April 2009. By the end of May, it had spread across the U.S., with all 50 states reporting cases.
Topeka — Kansas health officials have sent a probable case of swine flu from a person in suburban Kansas City to the federal labs in Atlanta for testing.
Dr. Jason Eberhart-Phillips said the case was sent Friday after a patient at a hospital in Johnson County showed symptoms. He said results from testing at the Kansas Department of Health and Environment lab in Topeka on Thursday warranted further testing by the Centers for Disease Control and Prevention.
The health department declined to provide any details about the age or gender of the Johnson County case. Results are expected back from CDC late Sunday or early next week.
Kansas has two confirmed cases of swine flu, both patients living in Dickinson County. Neither required hospitalization.
Copyright 2017 The Associated Press. All rights reserved. This material may not be published, broadcast, rewritten or redistributed. We strive to uphold our values for every story published.