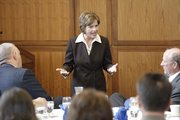 U.S. Rep. Lynn Jenkins isn't sure whether the dam at Lake Alvamar might be upgraded, or when the lake in southwestern Lawrence might be filled once again, but she does know one thing for certain.
A federal study will start the process toward helping adjacent property owners, local governments and others upstream in the urbanizing watershed understand just what needs to be done.
"It's critical," said Jenkins, R-Kan.
The federal government will finance a $230,000 study to outline options for addressing issues with the lake's dam, which is considered too low to meet current standards. The lake's dam is north of Clinton Parkway, about midway between Wakarusa Drive and the South Lawrence Trafficway.
Jenkins announced Friday that money for the study had been approved by the U.S. Department of Agriculture's Natural Recourses Conservation Service.
The study, to be conducted by a private engineering firm, will be expected to last 12 months. In the end, it will determine just what would need to be done to upgrade the 36-year-old dam.
The lake has been effectively empty since 2007, when a drainage plug was removed for repairs. Because the dam does not meet standards for its location, the Wakarusa Watershed Joint District has not been permitted to refill the lake.
The empty lake has left some owners of adjacent, high-dollar homes unhappy. There's been talk of reduced property valuations, which could affect local property tax revenue.
Jenkins toured the site in April and soon secured support from fellow Rep. Dennis Moore, D-Kan., and Sens. Sam Brownback and Pat Roberts, R-Kan., for financing the study.
"It's kind of amazing, and we're tickled to have been able to help," Jenkins said, in town for a luncheon Friday with about 80 members of the Lawrence Chamber of Commerce and their guests at the Dole Institute of Politics. "The study is what they really need to get started, to get something done. You need to get the ball rolling."
Jeff Gross, assistant state conservationist for NRCS in Salina, said that the study's recommendations would be open for public comment before going before watershed board members for a decision about how to proceed. Any repairs would be financed by the federal government (65 percent) and the watershed and its partners (35 percent).
The condition of the dam and the lake it forms — formerly known as Yankee Tank Lake — ranks as the NRCS' top priority for repairs in Kansas, he said.
"It's moved up the list," he said. "There's a lot of interest."
Requests for financing repairs would go up against others nationwide, Gross said. Construction financing would not be expected to be available until 2011 at the earliest.
Copyright 2018 The Lawrence Journal-World. All rights reserved. This material may not be published, broadcast, rewritten or redistributed. We strive to uphold our values for every story published.