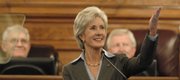 Kathleen Sebelius is the nominee for Secretary of Health and Human Services in Obama's Cabinet. She has served as Kansas' governor since 2002 and before that was insurance commissioner and a state representative.
Washington — Republican Sen. John McCain is asking President Barack Obama's nominee for Health and Human Services secretary if she would support giving Americans a $5,000 tax credit for health insurance — the same plan he offered during his failed presidential bid.
Kansas Gov. Kathleen Sebelius said she supports Obama's plan.
Obama backs building on the current employer-based system and supplementing it with a government plan. That public plan option is opposed by Republicans and the insurance industry. Sebelius told McCain she supports it.
McCain tried to get Sebelius to agree with his contention that employer-based coverage is unfair because higher-paid employees get better coverage. She said she wasn't familiar enough with the systems to say.
Copyright 2018 The Associated Press. All rights reserved. This material may not be published, broadcast, rewritten or redistributed. We strive to uphold our values for every story published.