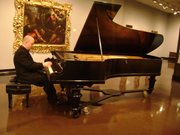 Steve Spooner once asked his high school piano teacher if he could spend some time working on a piece by Franz Liszt.
"He said, 'Don't you know Liszt is bad music?'" Spooner recalls.
It was a snapshot into a wave of anti-Liszt sentiment among some musicians.
"It wasn't that Liszt needed defending so much as he needed rehabilitation," says Spooner, an assistant professor of music and dance at Kansas University. "People needed to hear the whole story."
And so the American Liszt Society was formed, to perform and study the music of the Hungarian-born composer.
The society meets Friday through Sunday in Lawrence for its annual festival, which is expected to draw several hundred people. The theme is "Liszt and the Art of Transcription."
One of the highlights will be a concert at 7:30 p.m. Friday at the Spencer Museum of Art by Frederic Chiu. Chiu will be playing on the last piano owned by Liszt, which is owned by KU and is housed at the Spencer.
Other highlights will include master classes by John Perry, a well-known pianist and instructor and a lecture by Jonathan Kregor, a leading authority on Liszt transcriptions.
A full list of events can be found at http://continuinged.ku.edu. Admission for most single events are $10, though a $25 day pass is available for each day of the festival.
Spooner says the events will allow those in attendance to hear world-class pianists playing on one of Liszt's original pianos.
"That has a real emotional connection to people who love Liszt," Spooner says. "To sit down at a piano and realize the master had touched that instrument — that's an emotional kind of connection."
Copyright 2018 The Lawrence Journal-World. All rights reserved. This material may not be published, broadcast, rewritten or redistributed. We strive to uphold our values for every story published.