On the street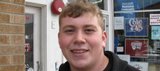 I'm not overly concerned because it's still a small town.
A celebration marking the two year anniversary of Club Axis ended negatively early Sunday morning when a 25-year-old Lawrence man was shot in the parking lot of the bar, 821 Iowa.
"Anytime something like this happens, it's not good for business … or the community," said Christopher Windler, bar owner. "We feel pretty bad about it."
Lawrence police have connected several incidents of violence to the bar over the last two years, including a double stabbing, an attack on a police officer and a brawl, all of which occurred after patrons left the establishment.
Windler said the events are being blown out of proportion and that his bar is being unfairly labeled, leading people to refer to it as "the new Last Call."
"Our crowd is nothing like Last Call," said Windler, in reference to The Last Call, a bar that vacated its location at 729 N.H., after three people were shot and injured outside the nightclub. That followed an incident during which seven shots were fired inside the club, although no one was injured.
Windler said a negative stereotype has been placed on the bar since Kansas University basketball player J.R. Giddens was stabbed there in May 2005 during a fight, when the establishment was called Moon Bar and under different ownership.
"We get a lot of negative publicity," said Windler. "Since day one, it's been a fight."
Club Axis is associated with hip hop music and has a mostly-clean cut, diverse crowd, Windler said. He blames the incidents connected to his bar on a few individuals who ruin it for everyone. Now, he's hopeful they won't ruin the future of his business.
The violent incidents stemming from the bar have caught city leaders' attention.
"We need to hold people accountable and make sure what goes on inside doesn't spill to the outside," said Mike Dever, Lawrence mayor.
While the city has no authority to take action against bars they find problematic, commissioners could seek to change that, said David Corliss, city manager.
The state's Alcohol Beverage Control bureau has authority over bar liquor licenses and can consider incidents happening inside a bar when determining whether to revoke the license, Corliss said.
"I don't think that's satisfactory," the city manager said. "I think that we need to change the law so that we can use incidents that occur outside of the establishment to consider revocation of a license."
Corliss said the city is lobbying state lawmakers to change ABC's rules, by also including incidents outside of bars when renewing licenses.
He said city commissioners could also look at establishing a local public assembly ordinance, which would regulate occupancy levels for establishments. Depending on how city law was structured, clubs wouldn't be able to operate unless they have a license approved by commissioners.
While Windler admits he is "nervous" that he could one day lose his right to operate, he said he's looking to make changes as he fights against negative publicity.
"We just have to figure out how we're going to restructure to make everybody safe," Windler said.
While the bar owner said it would be ideal for police officers to be positioned at Club Axis during closing time on a busy night, Corliss said the city doesn't have the resources to make that happen.
Corliss said additional resources would be added to the streets, when 13 officers graduate from the department's academy April 10.
Copyright 2018 The Lawrence Journal-World. All rights reserved. This material may not be published, broadcast, rewritten or redistributed. We strive to uphold our values for every story published.