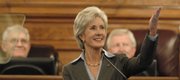 Kathleen Sebelius is the nominee for Secretary of Health and Human Services in Obama's Cabinet. She has served as Kansas' governor since 2002 and before that was insurance commissioner and a state representative.
Topeka — Gov. Kathleen Sebelius said Friday that she could be confirmed secretary of the U.S. Department of Health and Human Services as early as next week.
But Sebelius acknowledged it also may be several weeks before the full Senate votes on her nomination.
Sebelius will appear in hearings next week in Washington, D.C., before the Senate health and finance committees. The finance panel will be the one that recommends confirmation to the full Senate, which could act next Friday or Saturday before Congress adjourns for its two-week Easter recess.
"I don't control that timetable," Sebelius said. "I'm hopeful that I can respond adequately to the senators' questions; I'm hopeful that they will decide to move my confirmation ahead."
Since President Barack Obama nominated her to the post March 2, Sebelius said, she has already met individually with 43 senators.
Should she be confirmed, Sebelius said, she will resign as governor, and Lt. Gov. Mark Parkinson will automatically take over until Sebelius' term expires in 2010. If he becomes governor, Parkinson will then select a lieutenant governor.
Legislative leaders say they don't see Sebelius' departure as causing any kind of disruption, despite it coming so close to the end of the legislative session.
Kansas Senate President Steve Morris, R-Hugoton, said Parkinson "had indicated he is certainly willing to work with us."
Sebelius said that in her meetings with senators, she sensed there was genuine interest in federal health care reform. She said she agrees with Obama that reforming the health care system is crucial in helping the overall economic situation.
She said if health care reform doesn't happen now, it may be another 50 years before the opportunity arises again.
Copyright 2018 The Lawrence Journal-World. All rights reserved. This material may not be published, broadcast, rewritten or redistributed. We strive to uphold our values for every story published.