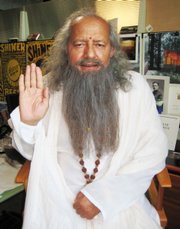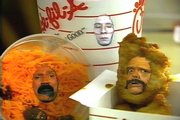 Found Footage Festival
When: 8 p.m. Thursday
Where: The Granada, 1020 Mass.
Tickets: $10
More info: 842-1390
-->
-->
While a high school student in Wisconsin, Nick Prueher inadvertently came across a McDonald's corporate training video during his part-time shift at the restaurant.
The 1986 video was designed to instruct new custodial employees at the franchise how to achieve a condition called "McC" — as in "McDonald's Clean."
"I popped it in one day in the break room, and I could not believe how stupid it was," Prueher recalls. "So I put it in my backpack and brought it home."
He then showed it to buddy Joe Pickett.
"We both thought, 'If there are videos this dumb right under our noses, imagine what else is out there,'" he says.
Prueher and Pickett have taken that concept several steps further over the years. Since 2004, they've been the "curators" of the Found Footage Festival, a touring showcase of VHS oddities. They'll bring the interactive event to Lawrence on Thursday night for a production at The Granada, 1020 Mass.
"It struck a chord with people, finding and watching these videos that weren't intended to be shown in public," he says. "Maybe it was a training video you had to watch by yourself in a break room. But put that into a room with several hundred people, and something magical happens when you're given permission to laugh."
The curators host each screening in person, providing snarky commentary and anecdotes about each selection.
When considering which gems to include, the pair honors certain guidelines:
1. The selection must be from an actual video tape that was legitimately found.
2. It can't be a video downloaded off the Internet.
3. It must be material that wasn't really intended to be shown in public.
Prueher says whether they pick an amateur music video or industrial how-to short, "it usually involves people with a lot of ambition and very questionable talent."
National idiocy
The Found Footage Festival travels all over the nation to present its findings, subsequently scouring thrift stores, garage sales, flea markets and Dumpsters in a quest to gather more material.
Prueher recently returned from Alaska, where a tip led to a second-hand store that furnished several hundred VHS tapes.
"We ended up having to check two extra boxes on the plane to come home," Prueher says.
Initially, most of the material was culled from the Midwest because that's where the pair was first based. But after several years of running the festival, tapes began pouring in from everywhere.
"Stupid videos are universal," he says.
The Lawrence presentation promises many such highlights. Among them are 17 sexual harassment videos, edited down to three minutes of the finest reenactments; an instructional video on how to toilet train cats; and a collection of exercise tapes that feature Playgirl's 1985 Man of the Year, Angela Lansbury and a guru who calls himself "the Laughing Yogi."
"One thing we find the most of is exercise videos," Prueher says. "It's a combination of every C-list star put one out in the '80s and '90s because they're so cheap to make, and people get sick of watching the same exercise video over and over, so they drop them off at Goodwill."
Perhaps the standout of the evening is a project titled "Stop and Think."
"It's a safety video featuring on-the-job accident reenactments," he says. "Aurora Pictures produces these videos for factories and places where there are safety issues in the workplace. But the way they're shot and edited, it's almost as if they're intentionally supposed to be funny. It's one accident after another, each one more hilarious than the one before it."
Comedic journey
Prueher and Pickett are no strangers to hilarity.
Currently, Prueher works on the production side of "The Colbert Report" on Comedy Central.
He first began professionally dabbling in zany videos during his final year of college at the University of Wisconsin-Eau Claire when he earned an internship at "Mystery Science Theater 3000." After college, he and Pickett both started writing for Wisconsin-based satirical newspaper The Onion. ("The headline and story I wrote that got the most feedback was 'New study reveals babies are stupid,'" Prueher says.)
Both moved to New York in 2000. Pickett remained with the newly relocated Onion while Prueher found work as a researcher and segment producer on "Late Night with David Letterman."
"A lot of the job was tracking down old embarrassing footage of celebrities," the 33-year-old says. "That skill came in handy at the Found Footage Festival."
Considering most of the people featured in the videos are subsequently laughed at by audiences, does this ever lead to encounters with these real-life subjects who are angry at such mockery?
Prueher says, "Part of what's interesting about finding the videos is not just the clips themselves but the back story behind them. We try and do our research and track down these people. In some cases they track us down. Luckily, everyone has been cool with it so far. Some are almost flattered that a video they've long since forgotten has achieved cult status."
Take the Laughing Yogi, for instance.
"I love to be exposed to the world, and I was very happy to be a part of the festival," says Guru Yogi Ramesh, a Los Angeles-based "guru to the stars."
"I do not bother at all. Life is an eternal bliss; enjoy it now. Live life laughing. God loves fun, so be happy with Laughing Yogi."
Lawrence audiences will get to see Ramesh take viewers through his method of relieving stress by employing various giggle-inducing exercises — "Now laugh like a baby!" — all while dancing in front of a green screen filled with images of whales.
Prueher recounts when Ramesh came to the Found Footage Festival in L.A.
"He did a demonstration and had the audience laugh along with him, which was great," Prueher says. "Then he went and sat in the front row to watch the rest of the show. We figured he'd be the best audience member ever, since his job was to laugh. But he sat stone-faced with his arms crossed for the entire rest of the show. He was more like the Unamused Yogi."
Copyright 2018 The Lawrence Journal-World. All rights reserved. This material may not be published, broadcast, rewritten or redistributed. We strive to uphold our values for every story published.