On the street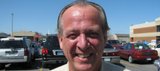 Popcorn with parmesan cheese.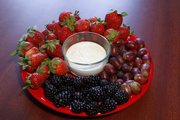 Last year about this time, Kansas University fans were dancing in the streets celebrating a men's basketball national championship. The parties were endless, the games exciting, and the economy had yet to foul out and hurt the home team.
This season, things are, well, different. The Jayhawks are rebuilding, the big upsets are still in the making, and you are probably wondering if the big, bad recession has snuffed out your annual March Madness party.
But don't fret — it is possible to celebrate the season on a budget. How? Make a dish yourself, says Nancy O'Connor, the director of education and outreach at The Community Mercantile, 901 Iowa. You'll save money, spend time in that kitchen you pay for each month with your rent check and still have a great time watching basketball.
"The best value in food is always the simplest food where you put the effort into it. And that way you'll get that much more for your money," O'Connor says. "Like bean dip, if you buy a premade bean dip, you not only can't control things like fat and salt, but you'll pay for that processing. Or you could buy canned beans and make your own bean dip, or if you wanted to be even less expensive, you could soak beans overnight and make your own bean dip."
And you don't have to do it all yourself, of course. Go potluck, says Johanna Simpson, catering coordinator for the Hy-Vee at 4000 W. Sixth St.
"Other people who are coming to your party — ask them all to bring a dish, and you're not only going to reduce your cost but you're going to have a larger variety of food that way," Simpson says.
Other tips from food professionals? Spend your money on fresh food, and use elbow grease to cut costs. Simpson recommends buying fruit and veggies and cutting them up yourself rather than buying them pre-cut. Meanwhile, O'Connor uses the example of roasted peanuts. If you buy a jar for the game, you might mindlessly eat more than you really intended, thus costing you more money in the long run. A better solution? Buying shelled peanuts or pistachios and doing the work to get them open and ready to eat while you are on the couch.
Same thing goes for beverages, O'Connor says. To save money and calories, try matching water ounce for ounce with the beer or soda you would normally consume — for example, drink 12 ounces of water before you down the more costly beer or soda.
And if you must buy something processed, avoid name brands — though O'Connor warns to watch out for the cost per serving size.
"One thing that I think that people often overlook with the cost of food is that if you buy a big bag of some cheese curls, for example, they may seem like an expensive treat, but if you look on the back at the serving size, the number of pieces that you might get if you only ate a serving and then multiply that out by maybe six or seven servings that you just mindlessly eat during March Madness watching a tight game, then the cost of that bag of cheese curls just went up," O'Connor says. "You have to always tie in serving size to nutritional cost and real cost of food."
Ready to party like it's 2008? Try cutting costs and maximizing your party quotient by making some of these tip-off ready recipes.
Fresh Lime Fruit Salad
1 cup sour cream
2 tablespoons sugar
1 tablespoon fresh lime juice
2 teaspoons freshly grated lime peel
Assorted fresh fruit (apple wedges, banana slices, grapes, strawberries, cherries, etc.)
Combine the first four ingredients in a small bowl. Cover; refrigerate at least 30 minutes. Serve dip with assorted fresh fruit.
— Recipe from www.landolakes.com
Classic Guacamole
4 ripe avocados, seeded and peeled
2 tablespoons lemon juice
1 clove garlic, crushed
1 tomato, finely chopped
1/4 cup finely chopped onion
1/4 teaspoon ground cumin
3 drops hot pepper sauce
Tortilla chips
Using a fork, coarsely mash avocado with lemon juice and garlic. Stir in remaining ingredients to blend. Garnish as desired and serve with tortilla chips.
— Recipe from www.avocado.org
The Original Chex Party Mix
3 cups Corn Chex cereal
3 cups Rice Chex cereal
3 cups Wheat Chex cereal
1 cup mixed nuts
1 cup bite-size pretzels
1 cup garlic-flavor bite-size bagel chips or regular-size bagel chips, broken into 1-inch pieces
6 tablespoons butter or margarine
2 tablespoons Worcestershire sauce
1 1/2 teaspoons seasoned salt
3/4 teaspoon garlic powder
1/2 teaspoon onion powder
In large microwaveable bowl, mix cereals, nuts, pretzels and bagel chips; set aside. In small microwaveable bowl, microwave butter uncovered on High about 40 seconds or until melted. Stir in seasonings. Pour over cereal mixture; stir until evenly coated. Microwave uncovered on High 5 to 6 minutes, thoroughly stirring every 2 minutes. Spread on paper towels to cool. Store in airtight container.
— Recipe from www.chex.com
Island Chicken Wings
8 fresh chicken wings
1 tablespoon garlic oil
1 can green chiles, 4 ounces; diced and drained
1/4 cup onion, chopped
1/4 cup golden raisins
2 tablespoons apricot preserves
1 tablespoon brown sugar
1 tablespoon lemon juice
1/4 teaspoon allspice
1 large banana, peeled and cut into chunks
Wash hands. Cut off wing tips; discard or save for other purposes. Cut remaining wings apart at joints to make two pieces each. Wash hands. Combine chilies, onion, raisins, preserves, brown sugar, lemon juice, allspice and banana in blender; puree. Heat garlic oil in large skillet to medium-low. Season wings with salt and pepper to taste; cook 18 to 20 minutes or until well-browned and done (internal temp 180 degrees). Meanwhile, pour sauce in small saucepan and cook, stirring frequently, over medium heat 10 minutes to thicken liquid. Season with salt and pepper to taste.
— Recipe from www.tyson.com
Artisan Cheese & Black Bean Nachos
1 bag (9 ounces) sturdy corn, multi-grain or blue corn tortilla chips or a combination
2 cups (8 ounces) shredded authentic Mexican cheese, divided
1 can (15 or 16 oz.) black beans, rinsed and drained
1/2 cup salsa
1/2 cup chopped, well drained, roasted red peppers
1/2 cup thinly sliced green onions
1/2 cup chopped cilantro
Arrange chips in a single layer on two large foil-lined baking sheets or pizza pans. Sprinkle half of cheese over chips. Combine black beans, salsa, red peppers and green onions; spoon evenly over cheese. Top with remaining cheese. Bake in preheated 375-degree oven 12 minutes or until heated through and cheese is melted. Top with cilantro.
— Recipe from www.sargento.com
Cheddar Cheese Fondue
3/4 cup chicken broth
2 tablespoons Dijon mustard
1 tablespoon cornstarch
2 cups shredded sharp cheddar cheese
Bring broth to boil in heavy saucepan on high heat. Reduce heat to medium. Stir mustard into cornstarch until well-blended. Add to hot broth along with the cheese; stir with wire whisk until well-blended. Cook until cheese is completely melted and mixture is well blended, stirring constantly. Pour into fondue pot or hollowed-out round bread loaf. Serve with assorted dippers, such as bell pepper strips, pretzels, apple chunks and broccoli florets. If serving in a bread loaf, cut the bread removed from the loaf into bite-sized chunks to also use as dippers.
— Recipe from www.kraftfoods.com
Slow-Cooker Hearty Beef Chili
1 1/2 pounds lean ground beef
1 can (15 ounces) dark red kidney beans, drained, rinsed
1 can (15 ounces) light red kidney beans, drained, rinsed
1 1/2 cups mild salsa
1 can (16 ounces) no-salt added tomato sauce
2 tablespoons chili powder
1 onion, chopped
1 cup frozen corn, thawed, drained
1 cup Mexican-style finely shredded cheese
Brown meat; drain. Add to slow cooker with remaining ingredients except cheese; stir. Cover with lid. Cook on low for 5 to 6 hours (or on high for 3 to 4 hours). Stir just before serving. Serve topped with the cheese.
— Recipe from www.kraftfoods.com
Double Chocolate Cupcakes
1 1/2 cups all-purpose flour
1/2 cup sugar
1/4 cup unsweetened cocoa powder
1 teaspoon baking soda
1/2 teaspoon salt
1/3 cup water
1/2 cup unsweetened orange juice
3 tablespoons vegetable oil
1 tablespoon vinegar
1 teaspoon vanilla
1/3 cup semi-sweet chocolate chips
1 teaspoon confectioners' sugar
Preheat oven to 375 degrees. Line 12 medium muffin cups with paper baking cups; set aside. In large mixing bowl combine flour, granulated sugar, cocoa, baking powder and salt. Make a well in center of dry mixture. Add water, orange juice, oil, vinegar and vanilla. Stir in chocolate chips. Spoon batter into prepared muffin cups, filling each two-thirds full. Bake about 12 minutes or until wooden toothpick inserted in center comes out clean. Remove from pan immediately; cool on wire rack. Sprinkle with confectioners' sugar.
— Recipe from www.dominosugar.com
Copyright 2018 The Lawrence Journal-World. All rights reserved. This material may not be published, broadcast, rewritten or redistributed. We strive to uphold our values for every story published.