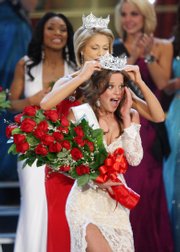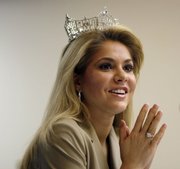 Detroit — She poses like a champion, one foot in front of the other, a dazzling — yet not forced-looking — smile at the ready.
And even when she's asked the same questions over and over, when she has to shake one more hand, smile for one more picture or when yet another little girl begs to see her sparkly crown, Farmington Hills, Mich., native Kirsten Haglund — Miss America 2008 — obliges. After all, she's more than a pageant winner. She's a role model for women, especially those who suffer from eating disorders.
Her mother, Iora Haglund, never thought she'd see her daughter go to college, let alone be crowned Miss America. Just five years ago, Kirsten Haglund was so sick, so deep in the throes of anorexia, her family had shelved dreams of a normal future and was just trying to get her back to being healthy.
But Haglund overcame it and is now trying to help others with eating disorders though a nonprofit she started, the Kirsten Haglund Foundation. She recently spoke about her reign and her battle with anorexia at Faith Covenant Church in Farmington Hills.
"I have to give back," said Haglund, 20. "That's very important to me. We're all given struggles in our lives. We have to use those struggles for good.
"I want to show others that recovery is possible."
Talking about her illness — and her recovery — helps her heal and stay on track.
Still, there are good days and bad days, Haglund said. She still struggles with food: What to eat? How much? And she still has days when she doesn't like the way she looks in the mirror. On those days, she talks to her mother, her dietitian, her close friend Julianne Cole, who also is in recovery from anorexia.
But she gets through them, knowing that someone needs to stand up for better treatment options, more awareness about the warning signs and help to take the focus away from the so-called perfect body.
"It's not pretty"
From the time she was a little girl, Haglund wanted to be a ballerina. She took lessons like many little girls do, but for her, it was more than a hobby. It was her life. She felt at home in her leotards and tights, learning the steps and practicing the routines. But it was her beloved ballet that triggered an eating disorder.
While at ballet camp as a 12-year-old girl, Haglund realized she didn't have the typical dancer's body: Short torso, long legs, and thin, thin, thin.
A simple diet might do the trick, the preteen thought. And so she went from a French fry-loving, carefree girl who rarely gave her parents a minute's worry to a sullen, withdrawn teen who refused to eat.
Her parents, both registered nurses, didn't realize their daughter had an eating disorder until Haglund was 15. Immediately, they sought treatment from her pediatrician, a dietitian and a therapist. There's a family history of depression and obsessive compulsive disorder. Haglund used to look at herself in the mirror and cry, thinking she was fat. She couldn't sleep and alternated between rage, anger and frustration.
"It was months before she realized how sick she was and then tried to get better," her mother said. "Then, it was another year of getting better. During that entire period of time, I felt like the food police."
There was a lot of anxiety and worry, Iora Haglund said. But as Haglund began to gain weight, things got better and easier.
"She's in recovery, and a part of that is learning to cope and be strong," her mother said. "She'll tell you that she couldn't have done any of this without God."
To get healthy, Haglund gave up ballet. She just couldn't find a way to be a ballerina and not have anorexia.
"Everyone needs to be aware and feel uncomfortable about eating disorders," she said. "It's not pretty. It's a mental and physical illness. It still makes me sad. It makes me hate this illness. But I feel grateful to have my life."
Over the rainbow
She is, as she'll tell you, an unlikely pageant queen.
She got into that pageant circuit on a whim in 2006, entering the Miss Oakland County, Mich., competition with hopes of winning a scholarship to help pay for her tuition at the University of Cincinnati, where she planned to study musical theater.
So she signed up and bought a dress at the local resale shop for the talent portion, where she sang "Adele's Laughing Song" from the operetta "Die Fledermaus."
She won, headed to the 2007 Miss Michigan competition and took the crown.
She couldn't believe she was headed to the Miss America pageant, even though there's a family legacy. Her mother had been involved for several years with the Miss Oakland County Pageant, and her grandmother, Iora Hunt, competed for the title of Miss America as Miss Michigan in 1944.
"We thought maybe she would be in the top 15 or maybe the top 10," said longtime friend Cole.
But as they whittled down the contestants in January 2008, Haglund was a finalist. She performed "Somewhere Over the Rainbow," waved and smiled to her parents, and dared to hope for maybe second- or third-runner up.
Haglund went on to take the title with a look of shock on her face and a crown on her head.
"Her win is really phenomenal when you think about the girls in the pageant system and the years they've spent," said her choir teacher and family friend, Greg Cleveland. "She just passed them by and won. But she's real. She's Kirsten."
Cole was happy and proud of her friend, but she also worried. How was Haglund going to handle her beauty queen status and the comments about her looks and body? Would she relapse?
"It's such a difficult recovery," said Cole. "And one of the biggest fears is relapsing. ... But her platform, sharing her story, is a part of her healing process. It's a strength for her. I'll admit. I was pretty skeptical. But she has handled it well. I don't know if I could have done it."
Forty states
The win launched Haglund on a yearlong odyssey of appearances and meet-and-greets. She logged 20,000 miles a month on the road, visiting 40 states. She jokes that she got both a bachelor's and a master's degree in personal growth.
While it was at times tiring — and she still despises airports — Haglund said her reign was full of mind-blowing moments: She met then-President George W. Bush and sang the national anthem at Opening Day at Comerica Park. And she was in President Barack Obama's inaugural parade.
While she had only two vacations during her reign — days off at Christmas and Easter, which she spent at home with her family — Haglund managed to keep in touch with her friends and family through phone calls, text messages and e-mails, missing that face-to-face contact.
She also missed the little things, doing laundry, grocery shopping, sleeping in her own bed.
Haglund crowned a new Miss America in January and launched her foundation in February. The motto is: "Love your body. Rock the world." She's designing jeans with Paige Premium Denim that will be sold to benefit her foundation and has speaking engagements each month through the end of 2009.
She leased an apartment in Los Angeles, where she's auditioning for television shows and movies and hopes to enroll in college next fall. She now wants to study business and take acting classes.
"I really believe in fate," she said. "Everything is falling into place. For a year, it was always Miss America! Miss America! Miss America! And that's worth something, I know. But I'm Kirsten. And that comes first."
SIGNS OF ANOREXIA
Anorexia has one of the highest death rates of all mental illnesses, with about 10 percent of women dying of anorexia-related causes like starvation or suicide. According to the Academy of Eating Disorders, anorexia has a higher risk of death than depression, schizophrenia or alcoholism.
Some warning signs:
• Dramatic weight loss
• Preoccupation with food
• Refusal to eat a certain category of food
• Denial of hunger
• Developing rituals like rearranging food on a plate
• Rigid or excessive exercise regimen
• Withdrawal from friends or favorite activities
Also see more at www.aedweb.org.
Copyright 2018 The Lawrence Journal-World. All rights reserved. This material may not be published, broadcast, rewritten or redistributed. We strive to uphold our values for every story published.