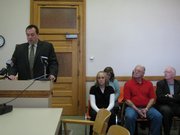 Topeka — The husband of a slain social worker urged lawmakers on Tuesday to approve a bill that would require safety training for social workers.
Matt Zenner, of Lenexa, whose wife, Teri Zenner, was brutally murdered in 2004 while visiting a client, also blamed state Rep. Brenda Landwehr, R-Wichita, for not allowing a vote on the legislation.
"This woman has single-handedly started a process to kill this bill," Zenner said of Landwehr. "She is not worried about their (social workers') safety," he said during a news conference.
Landwehr said she opposed the bill because she believed self-protection training for social workers should be part of their degree training in college or continuing education, but not a state requirement. She said she didn't want the requirement to be put into state law because then the state would be responsible for overseeing a training program for a profession.
But Zenner and Sky Westerlund, executive director of the Kansas chapter of the National Association of Social Workers, said many states have acted quickly in implementing self-defense training requirements after violent attacks on social workers.
Westerlund said her group has made concessions to reduce the scope of the bill to limit it to requiring self-protection training within the first two years of becoming a licensed social worker. There are approximately 6,000 social workers in Kansas.
In August 2004, Teri Zenner, 26, a social worker and Kansas University graduate student, was attacked with a knife and chainsaw by Andrew Ellmaker, 20, of Overland Park. Zenner, who worked for the Johnson County Mental Health Center, was visiting Ellmaker's house to make sure he was taking his medication.
Ellmaker had been diagnosed with schizotypal, a personality disorder, and had been committed four times to a mental institution.
In 2007, he was convicted of first-degree murder and sentenced to life in prison with no possibility of parole for 50 years.
Since then, Matt Zenner has fought for more awareness of violence done to social workers.
"The state of Kansas has done nothing to protect social workers," he said.
Copyright 2018 The Lawrence Journal-World. All rights reserved. This material may not be published, broadcast, rewritten or redistributed. We strive to uphold our values for every story published.