Photo Gallery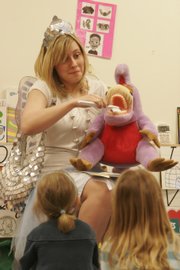 Tooth fairy tales: How kids get excited about a time-honored tradition
When the Douglas County Dental Clinic sends the Tooth Fairy out to visit children, she really gives them something to chew on.
When the Douglas County Dental Clinic sends the Tooth Fairy out to visit children, she really gives them something to chew on.
In addition to talking about the Tooth Fairy tradition, the names El Raton and Senor Ratoncito Perez are just a few of the names that come up as she reads from the book, "Throw Your Tooth on the Roof: Tooth Traditions from Around the World," which is named for the tooth-losing tradition in some Asian countries.
For the youngsters who hear the stories, hearing stories from other cultures is a reminder to take care of their teeth. And it generates excitement about the rite of passage they will embark on as one set of teeth falls out and another grows in its place.
"The kids enjoy stories where the teeth are made into jewelry. They also like the stories where they can interact, like when they hop on one foot and shout to bring a new tooth," says Brianne Koester, the clinic's coordinator.
Lawrence dentist John Hay, of Family Dental Care in Lawrence, says the process of losing and growing in teeth can be a significant point of maturation for many children.
"Most of the kids I see are excited about it," he says. "They come in wanting you to check to see if they have any loose teeth yet. A lot of time, the schools make charts of children who have lost teeth, and that helps generate some excitement."
Most of the children Hay sees are visited by a similar type of Tooth Fairy.
"At least in America, there tends to be a financial reward for teeth, but there are some that shy away from giving money and prefer to trade toys or things like that," he says.
When Lucia Costello, 7, loses a tooth, she is visited by someone very special.
"The Tooth Fairy is very nice and pretty," Lucia says. "I can only imagine that she is very hungry when she gets back to Fairyland after collecting all those teeth all night long."
Her mother, Marcie, makes sure this preparation leading up to this unseen visit is part of the fun.
"The eve of the Tooth Fairy visit, we read 'Dear Tooth Fairy' by Alan Durant, and then place the tooth in the pocket of the tooth pillow and slip that under Lucia's pillow," Marcie says. "The Tooth Fairy visits late at night and removes the tooth and leaves a special token in trade."
The items the Costellos' Tooth Fairy have left range from a gold coin for the first tooth, a $2 bill for the second, crystals, geodes and larger money bills for the front teeth.
"It is always a surprise as to what the little sprite might leave," Marcie says. "These are special evenings in our home, memories to cherish."
Five-year-old Rose Morland's tooth fairy has a rather artistic temperament.
"She makes a castle out of all the teeth she collects," Rose says.
The Morlands' tooth fairy typically leaves $2 per tooth, either in bills or quarters.
Koester, of the Douglas County Dental Clinic, says using a special tooth fairy pillow or saving children's teeth in a treasure chest are ways parents can help heighten the significance of this very important moment in their children's lives.
"The important part is that parents take an active role in teaching their children about taking care of their teeth," Koester says.
So, whether your household is visited by a pretty fairy, a clever rat or you throw your tooth on the roof, parents should use the opportunity to get it on the fun of this coming of age experience.
Hay agrees.
"Parents should stress that it's a natural process" he says, "and the Tooth Fairy makes that a positive part of the experience."
Copyright 2018 The Lawrence Journal-World. All rights reserved. This material may not be published, broadcast, rewritten or redistributed. We strive to uphold our values for every story published.