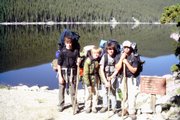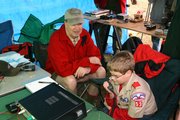 Scouting is alive and well in Douglas County.
Five troops — 52, 53, 59, 61 and 62 — comprise the Pelathe District, which serves the cities of Lawrence, Eudora, Linwood, Baldwin City and Lecompton. Scouting has gone through many changes since its founding in 1910. Today's Scouts learn everything from first aid to Web design. Yet the tenets of Scouting remain the same.
"If you really embrace these values, it's hard not to become a good person," says Mark Stogsdill, Scoutmaster of Lawrence Boy Scout Troop 59.
Phil Wrigley, assistant swim coach at Lawrence High School, began scouting in third grade as a Cub Scout. He went on to attain the rank of Eagle Scout, scouting's highest rank. Wrigley continues his involvement as an assistant Scoutmaster.
"You develop a long-term relationship with these kids. It's like a family — you get to see these goofy kids turn into intelligent, articulate adults," Wrigley says.
Recent activities have included rock climbing at Ibex Climbing Gym in Blue Springs, Mo., visiting the Cosmosphere in Hutchinson and exploring caves in Devil's Den State Park, Ark.
Boy Scouts: not just for boys anymore
Venturing is a co-ed program, created by the Boy Scouts America, to challenge older scouts between the ages of 14 and 20. Lawrence Venturing Crew 2052 is unique in that it is an all-female crew. Crew 2052 was established in the fall of 2002. The all-female crew is sometimes confused with Girl Scouts, of which some are also members, though Crew 2052 participates in jamborees and activities with local Boy Scout troops.
"Venturing is more of an outdoor program than Girl Scouts. It allows girls to participate in high adventure activities," says Audrey Taylor, assistant adviser for Crew 2052.
Crew 2052 has an active membership of 15 girls, ages 14 to 18. In the summer of 2004, members attended Philmont Scout Ranch in Cimarron, N.M. Last summer, they traveled to Ireland to attend an international scouting jamboree, celebrating the centennial anniversary of scouting in Ireland.
This summer, Crew 2052 will travel to Arkansas to compete in the White River Canoe Race — a grueling 113-mile, 3-day race.
"We are one of the first groups in this area to participate," Taylor says.
Girl Scouts, much more than cookies
Many people are familiar with the local Girl Scouts from their annual cookie sale fundraiser. Girl Scout volunteer Cindy Riling wants the community to know there is a lot more to the organization than selling cookies.
"You're building memories," Riling says. "There are athletic activities, leadership building programs and community service."
Service projects Douglas County Girl Scouts participate in include volunteering at the Lawrence Humane Society, participating in clean-up projects at Clinton Lake and collecting musical instruments to be refurbished before being donated to local schools.
In June, local Girl Scouts will host "Sky's the Limit," a day camp for girls in kindergarten through fifth grades that lets participants enjoy the outdoors, learn about nature and make new friends. Girls in grades six and higher can gain leadership skills by working as camp aides.
Copyright 2018 The Lawrence Journal-World. All rights reserved. This material may not be published, broadcast, rewritten or redistributed. We strive to uphold our values for every story published.