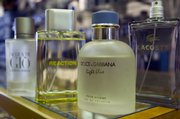 Cologne trends
Weaver's men's department employee Andrea Chavez shares some of the trends she sees in the cologne business:
• Cologne is still selling strong despite the economy and the introduction of less expensive body sprays.
• Musky, spicy and strong scents are out. Lighter, fresher scents are in.
• Cologne still popular among a wide spectrum of ages, from teens to guys in their 80s.
• Cologne is still very advertising-driven, and men frequently request scents they've smelled in magazine samples.
• Popular selling brands of cologne include Dolce & Gabbana, Armani and Lacoste.
It's a product for men.
But when it comes to cologne, it's no secret that it's really for women. So it shouldn't be a surprise that when it comes to what kind to wear, women have a good deal of input.
"Women are often the ones making the decision," says Earl Reineman, who has seen his share of women picking out cologne for men in his 20-plus years working in the men's department at Weaver's, 901 Mass.
Fellow Weaver's co-worker Patrick Craig says he also frequently sees wives who come into the store saying, "My husband wears this, I want him to change."
According to Lilly Nicolen, manager at The Buckle, 805 Mass., giving cologne as a gift is a good option for women trying to steer men toward a particular scent. She says women frequently come into her store buying cologne as a gift for teens to senior citizens.
"It's a one-size fits all (gift)," Nicolen says.
Mike Graczyk is one Lawrence-area resident who receives cologne as a gift during the Christmas season. And while he doesn't pick the cologne out, he also heeds the feedback of the opposite sex.
"If it was the girlfriend (who didn't like the cologne), I probably wouldn't hang onto it that long," says Graczyk. He adds jokingly: "Or I might hold onto it just to spite her."
Others pass on cologne altogether.
Fred Ennis doesn't wear cologne, and his wife, Beth, doesn't have a strong opinion on cologne either way. Ennis says he finds that guys often wear too much of it.
"They put it on too strong," he says, which irritates him in closed spaces, especially on airplanes.
For Gwen Arthur, cologne on a man is simply a bonus.
"Good-smelling cologne is a plus," says Arthur, adding it's not a necessity as long as a man practices good hygiene.
"Deodorant is plenty," Arthur says.
Copyright 2018 The Lawrence Journal-World. All rights reserved. This material may not be published, broadcast, rewritten or redistributed. We strive to uphold our values for every story published.