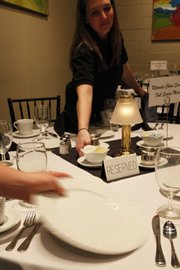 When Steve Maceli is asked to cater an eco-friendly wedding, he brings in the china and linen napkins, and he does away with the plastic forks and spoons.
"We're pretty versatile," says Maceli, owner of Maceli's, 1031 N.H. "If someone comes in and says we want a green wedding, we can do it."
Such a request is not uncommon for Maceli, as more and more brides-to-be are seeking ways to help the environment while still celebrating their big day.
Reduce
One way to eliminate wedding waste is to take a good look at the guest list. By cutting out unnecessary names, a bride can reduce the number of envelopes and stamps used to postmark the invitations.
Lori Lange, store manager of Prairie Patches Flowers, 821 Mass., has another idea: Use eco-friendly paper. Prairie Patches offers an entire book of natural papers that use 30 percent recycled materials.
"We've had some brides come in specifically for it," Lange says.
Reuse
For most brides, a wedding is incomplete without an expensive white gown.
But after the wedding is over, most dresses end up in the back of closet, never to be worn again.
So brides might consider shopping at area thrift stores such as Goodwill for dresses and tuxedos.
"Once in awhile we'll take a tux," sales clerk Wendy Penny of Lasting Impressions, 711 W. 23rd St. "We do have one-of-a-kind bridesmaid dresses."
Recycle
Heather McKeel, manager of the Englewood Florist, 1101 Mass., is used to dealing with environmentally conscious brides.
"We do have people who want us to call and make sure the flowers have no insecticides, pesticides and are grown locally," she says.
McKeel is happy to comply with the request, of course. As is Maceli, who says he even has had brides who ask to reuse their tableware.
"We've had people who want to collect it and wash it," he says.
Often, though, Maceli says brides don't realize the cost of throwing a green wedding.
"People need to realize a green wedding will cost more," he says.
Still, Maceli says he will provide whatever the couple prefers.
"Some people have told us they wanted it," he says. "We have to help them realize the implications of that."
Environmentally friendly wedding ideas
Here are some green ideas for weddings: • Limit guest travel. Have the wedding in the town where most guests live; help arrange car pools. • Have a daytime wedding, outdoors when possible. • Choose recycled paper for invitations and place cards. • Serve organic, locally grown food. • Decorate with organic, locally grown flowers, fruits and veggies. Create smaller centerpieces. Choose potted plants rather than cut flowers. • Seek out caterers who recycle materials and use linen and china instead of disposables. • Wear vintage clothes and jewelry, or choose "green" fibers like silk or organic cotton. • Use candles. • Hire a hybrid limo, or a horse and buggy. • Pick digital over film. • Find out how much greenhouse gas your wedding will create at TerraPass.com, which offers to then "offset" the event by inviting you to invest in energy-saving technologies. • Pass it on: Tell your guests that an elegant event can also be light on the environment.
— The Associated Press
Copyright 2018 The Lawrence Journal-World. All rights reserved. This material may not be published, broadcast, rewritten or redistributed. We strive to uphold our values for every story published.