Help available
The Community Health Improvement Project will have information tables for people who want to learn more about what kind of health care services are offered in Douglas County as part of National Cover the Uninsured Week. They will be:
• Today, 1 p.m.-4 p.m., Wal-Mart, 3300 Iowa. • Tuesday, 10 a.m.-4 p.m., main lobby of Lawrence Memorial Hospital, 325 Maine. • March 28, 9 a.m.-noon, annual Community Wellness Festival, Collins Center at Baker University, Baldwin City.
They are mothers and fathers, sons and daughters, neighbors and friends. Often, they are workers who are struggling to make ends meet.
They are the uninsured.
"A lot of our patients have to choose how to spend their limited income, and obviously having groceries and a place to live and basic needs are going to come first, over an insurance policy that they may or may not need," said Nikki King, executive director of Health Care Access.
It's estimated that 340,000 people — about 13 percent of Kansans — do not have health insurance. About 13,000 of them live in Douglas County. Nationwide, 46 million are uninsured.
Health Care Access, 1920 Moodie Road in east Lawrence, opened 20 years ago to provide health care for low-income Douglas County residents with no access to medical care, except for a trip to the hospital emergency room. The founders assumed it would be a temporary two- or three-year fix, until the national health care system improved.
They were wrong.
In 2008, the agency served a record 1,703 patients and provided more than $4 million worth of care.
"We are bigger than ever and looking for more capacity," King said. The wait to get an appointment is six weeks and growing.
Kansas Insurance Commissioner Sandy Praeger, of Lawrence, was a founding member of Health Care Access. While the organization fills a void, she said it's not the long-term answer.
"It's a safety net, and the ideal solution would be for Health Care Access to not be needed because everybody has coverage," she said.
Praeger said meaningful health care reform would need to come from the federal level.
"We will never get our arms around a permanent solution unless we address the issue of health care costs," Praeger said. "It's not conceivable to ask somebody to pay a third to a half of their monthly salary in health insurance. It's just not going to happen."
Four uninsured Douglas County residents agreed to share their stories to help raise awareness about the health care crisis in this country as part of national "Cover The Uninsured" week. These are their stories: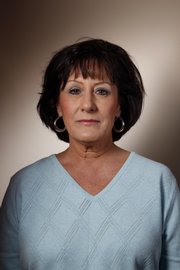 A grandmother
Linda Gleasure, 59, is a self-employed hairdresser at Brandon Woods Retirement Community. She has been shampooing, cutting, blow-drying and styling hair there for about five years.
"You've gotta enjoy what you do and that's three-fourths of the job to me, and I am enjoying what I am doing," she said.
Gleasure said she earns about $800 per month, which doesn't cover her monthly bills.
"I juggle bills. Sometimes, I don't pay the water bill one month and I pay the phone bill. And the next month, I don't pay the phone bill, but I pay the water bill to keep disconnects away. I've had to do that a lot."
She lost her health insurance in 2005 when her father died. He had lived with Gleasure for 13 years and helped pay for the coverage.
"When he passed, I couldn't do it," she said.
Three years earlier, she had a mid-sized tumor removed from her head. It was a six-hour surgery and seven-day hospital stay. The bills were around $80,000. She knows the importance of health insurance. She tries to not worry about her situation, but it's difficult especially as she ages.
"There's a lot of things that could cause fear and if your mind goes there, you could worry yourself sick," she said. "For me, I just thank God that I can depend on him. He's our help in time of need. I am a firm believer in that."
She recently turned to Health Care Access, which provided her with medications and her first women's wellness exam in two years. She had to use a credit card to pay for dental work and recently racked up a $6,000 bill because she needed crowns.
"That's all that's on that credit card is teeth," she said.
Gleasure has two sons, ages 28 and 23. The youngest lives at home and plans to get married in June. His full-time job pays $11 an hour, but he is uninsured.
His mother worries about him.
"He can't start having a family without insurance. If the baby has trouble or the mom has trouble, it would break them. He would be 25 years old and have this debt that he can't get rid of and then you can't get a house because you've got too much debt," she said.
Gleasure also plans to get married. She became engaged in February to Steve Wilson, of Harrison, Ark. They met during church services in Lecompton. Wilson is a longtime friend of the pastor. The wedding date hasn't been set because of the housing slump. Wilson's house has been on the market for six months and only a handful of people have looked at it.
"Economically. That's another problem," she said.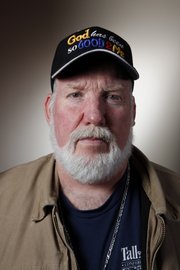 Newlywed
Steve Pitnick, 51, commutes to work every day from his Lawrence home. He is in the construction business with his brother who lives in Lenexa. They do remodeling work, paint and finish basements in the Kansas City area. He is still making monthly payments on the van he uses for work.
When Pitnick gets that van paid off in a couple of months, he plans to start shopping for a health insurance policy. It would be the first of his lifetime.
"For 47 years, I was very lucky with my health," he said.
Not feeling well, he visited a doctor in Shawnee who recommended Health Care Access. After the visit, he was diagnosed with a liver disease. He said the disease required a year of treatment, and all of the services and medication were provided for free.
He called it a blessing — and a wake-up call.
"They are a godsend, that's what they are," he said.
Pitnick recently remarried his former wife, Marilyn, who is a nanny. She, too, is uninsured. He also supports two grown children at home. He enjoys fishing and riding his motorcycle. He said his life is much different than it was four years ago when he found faith. He said he used drugs and lived a "crazy, screwed up" life.
"When they said you've got this, that and the other, it just didn't surprise me," he said. "The way I truly looked at it is, if this disease is going to get me, then fine, I can go to heaven now."
But, it didn't. Now, he wants to find affordable health insurance, so someone else can take advantage of Health Care Access. Employees say he donates money when he can and often writes "God Bless you" on the check.
Depending on business, he brings home about $500 a week. So far, his business hasn't been affected by the economy.
"Who knows," he said of what the outlook might be. "If people decide they are not going to do this, that and the other, then who knows what will happen."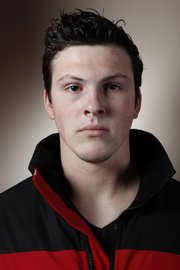 College bound
At age 20, Paul Halford has his whole life in front of him. That is, if he gets the medication that his life depends on.
Halford was diagnosed with Type I diabetes at age 7. He had health insurance until he turned 18. Then he was on his own. His dad is a pastor in Baldwin City and his mom works as the church secretary. They don't have insurance either.
"God apparently is watching over us," Halford said.
Halford, an honor roll student, graduated from Baldwin High School a semester early. He began working full time for Jackson Hewitt Tax Service and traveled around Kansas. Last year, he graduated from Masters Commission school in Jacksonville, Fla. Then, he worked in construction in Wichita for a few months before moving back home.
Now, he is trying to save money to attend North Central University in Minneapolis next fall. He hopes to become a pastor or teach theology or maybe even do something with drama.
He is working as many hours as possible at Back Yard Burgers, where he earns $7 an hour. That's about $150 per week.
"I have car payments even though my car is falling apart. I still haven't paid it off," he said.
Halford said he pays for entertainment, such as bowling and movies and, of course, gas. He also takes 10 percent out of each paycheck and gives it to his church.
He relies on Health Care Access to supply him with insulin and blood pressure medicine. He goes through about $200 worth of insulin a month.
Halford pulled out a small bottle and held it up between his thumb and index finger. "This bottle of insulin is $85 and I am like, 'What goes into this that makes it that much money?' That's what I don't understand," he said.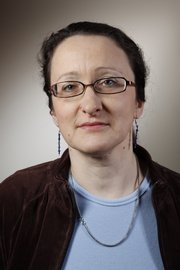 Widow
In 1992, Anna Doktor and her husband, Czes, moved to Lawrence so he could earn a master's degree at Kansas University, in addition to his degree from Poland, and become licensed in the state of Kansas. He then landed a dream job at Lansing Correctional Facility as a psychologist.
Meanwhile, Anna took care of their two children, Alexander and Monika, and worked part-time jobs. She has a degree in political science and journalism from the University of Warsaw in Poland, where she is originally from, and planned to earn a similar degree at KU.
"That part didn't happen," said Doktor, now 51.
In 2003, Czes died after an 18-year battle with cancer. His death left the family without health insurance. They were offered coverage through the Consolidated Omnibus Budget Reconciliation Act, but it cost $800 per month.
"I could live in a tent and have insurance or I can try to keep my home. I tried to pay for a few months and then I quit and by then I didn't work," she said.
Her children were covered by Kansas Healthwave, a state health insurance program for children, until she began working at Signs of Life, a locally owned downtown bookstore. When she first started there, she earned $120 a month, which was $40 too much to continue qualifying for the program.
"You are too rich to qualify for state help by their standards, but basically you are too poor to pay for anything else," she said.
She considered cutting back on work until she found the Leo Center's Heartland Medical Clinic in downtown Lawrence. It provides primary health care services and medication for the family, and the fees are based on her income. More importantly, she said the doctors and staff treat the family with genuine care and respect.
"If nothing major happens, we are fine at the Leo Center," she said. "My concern sometimes at 2 o'clock in the morning is: What if? But, I cannot afford to think about it and I cannot afford to pay $500 or $600 a month just for what if."
She has house payments and utility and grocery bills. She puts off dental work until it's necessary. Her children, now ages 12 and 15, sometimes pitch in by walking someone's dog for a little money. They are understanding when mom can't buy a new pair of shoes until next month.
"Like my daughter said, 'Mom, I would rather have one pair of jeans and have you go to work happy and come to us with energy and joy, than having a whole closet and you being grumpy and working so many hours a week."
Copyright 2018 The Lawrence Journal-World. All rights reserved. This material may not be published, broadcast, rewritten or redistributed. We strive to uphold our values for every story published.