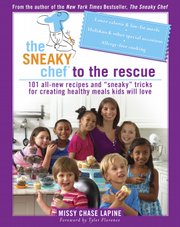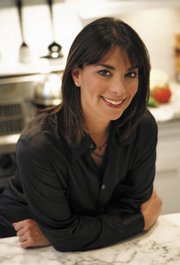 Concord, N.H. — Missy Chase Lapine's newest cookbook includes a chapter on holiday recipes, but in her kitchen, every day is April Fools' Day.
Her first book, "The Sneaky Chef," laid out the basics of her approach to feeding finicky kids: hiding vegetable purees in their favorite foods to increase nutritional content and decreasing dinner table tension. The follow-up, "The Sneaky Chef to the Rescue," builds on that approach with 101 new recipes, many written in direct response to reader feedback.
In between, she sued Jerry Seinfeld and his wife, claiming that ideas for Jessica Seinfeld's cookbook, "Deceptively Delicious," were stolen from Lapine's book.
Lapine wouldn't comment on the lawsuit in a recent phone interview, but in court documents she claims Seinfeld "blatantly and willfully copied" her idea, down to the book's organization and design. The Seinfields have asked a federal judge in New York to throw out the suit, saying it "gives new meaning to the terms 'objectively unreasonable' and 'publicity stunt."'
To hear it from Lapine, she doesn't need the publicity.
"There's an endless demand for more 'Sneaky Chef' recipes. From what I've heard from my readers, it's not really a cookbook, it's really a book they live out of," Lapine said from her home in Westchester, N.Y.
Besides holidays and celebrations, Lapine includes chapters devoted to lower-calorie recipes and recipes for children with food allergies. There's a green-and-red striped smoothie for Christmas morning that combines strawberries and avocado, a reduced-fat version of the "Brainy Brownies" featured in first book that includes even more pureed spinach and blueberries, and egg-free, dairy-free, gluten-free granola bars.
RECIPES
This simple puree of carrots and sweet potatoes from Missy Chase Lapine's "The Sneaky Chef to the Rescue" can be prepared ahead of time and refrigerated for up to three days or stored in the freezer for up to three months.
Slip this healthy blend into store-bought tomato sauce, or into Lapine's recipes for meatballs or breakfast banana bread pudding.
Orange Puree
1 medium sweet potato, peeled and coarsely chopped
3 medium to large carrots, peeled and cut into thick chunks
2 to 3 tablespoons water
In a medium saucepan over medium-high heat, combine the sweet potato, carrots and enough cool water to cover the vegetables. Bring to a boil and cook for about 20 minutes, or until the carrots are very tender.
Drain the vegetables, then transfer them to a food processor. Add 2 tablespoons of water. Puree on high until very smooth. Stop as needed to scrape the sides of the bowl. If needed, add another tablespoon of water to ensure a smooth consistency.
The puree can be refrigerated for up to 3 days, or frozen in 1/4-cup portions for up to 3 months. Makes 2 cups.
Sweet and Sassy Meatballs
2 tablespoons olive oil
1 large egg, beaten
2 to 3 cloves garlic, minced
1/2 teaspoon ground ginger
1/2 cup Orange Puree
2 tablespoons no-sugar jam (strawberry, grape or seedless raspberry)
2 tablespoons ketchup
1/4 teaspoon salt
3/4 cup wheat germ
1 pound lean ground beef or turkey
Heat the oven to 350 degrees. Use the oil to coat a rimmed baking sheet.
In large bowl, whisk together the egg, garlic, ginger, orange puree, jam, ketchup, salt and wheat germ. Add the ground meat and mix with your hands until well combined.
Using damp hands, pinch off large tablespoons of the meat mixture and gently shape into balls. Arrange the meatballs on the prepared baking sheet.
Bake for 10 minutes, then use a spatula to flip the meatballs and cook for another 10 minutes, or until browned. Makes 18 meatballs.
Breakfast Banana Break Pudding
1 cup low-fat milk
2 large eggs
2 egg whites
2 tablespoons maple syrup
1 teaspoon vanilla extract
1/4 cup Orange Puree
3 large bananas, mashed (about 1 1/2 cups)
1/2 teaspoon cinnamon
1 tablespoon butter, melted
4 slices whole-grain bread, cut or torn into 2-inch pieces
Cinnamon-sugar blend, to garnish
Heat the oven to 350 degrees. Coat an 11-by-7-inch baking dish with cooking spray.
In the prepared baking dish, whisk together all ingredients except the bread. Add the bread and toss. Let sit for several minutes, or until the bread is soft and has absorbed most of the liquid. It also can be covered with foil and refrigerated overnight
Cover with foil and bake for 30 minutes. Uncover, sprinkle with cinnamon-sugar, then bake for another 15 to 20 minutes, or until the top is golden brown and the pudding is firm at the center.
Serve warm, drizzled with maple syrup. Serves 8.
Copyright 2018 The Associated Press. All rights reserved. This material may not be published, broadcast, rewritten or redistributed. We strive to uphold our values for every story published.