Photo Gallery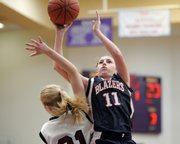 Best of the Midwest Tournament
Bo Schneider's basketball team came in dead last in its tournament division Sunday afternoon at Robinson Gym.
Neither he nor his teammates seemed to mind too much, though. They were just happy to have a court, a scoreboard and referees.
"I like to be around basketball," said Schneider, a junior at Free State High. "So, it's pretty cool."
Schneider's team was playing in the Best of the Midwest Tournament, an AAU basketball event taking place at five locations around the city and featuring 10 boys divisions and five girls divisions.
Schneider's squad — the CTG Bankers — consisted of friends from Free State, many of whom play in the Firebirds' program, including varsity teammate Aundre Allen.
Schneider said the team, which finished 0-4 in the varsity division this weekend, would play in about eight tournaments in the offseason.
"There's not as much pressure," said Schneider, asked to compare offseason games to the regular season. "You can have a little more fun with it."
Allen said most of his teammates were members of Morning Star Church. The CTG team — which stands for Called to Greatness — was started by former Kansas University basketball player Wayne Simien, who ran a three-day basketball camp with the same name last summer at Free State.
Allen is balancing AAU basketball with his obligations as a track athlete at Free State, as well as training for football season in the fall.
"It's busy," Allen said. "It's tiring, but I like it. I might as well do it to get better. And it's a lot of fun hanging out with friends."
Sunday, the team was coached by Greg Ruder, father of Matt Ruder, a 6-foot-3 junior at Free State.
"He's helped me out with my game the most," Matt Ruder said of his dad. "It's good to have him there on the sideline."
The girls brackets featured no varsity teams. The highest division was eighth grade, where the Kansas City-area MV Blazers defeated Tulsa (Okla.) And 1, 45-35, in the championship Sunday.
Todd White, coach of the Blazers, brought players together from eight cities around the Kansas City area.
White said the team played three out of four weekends each month during the summer. The Blazers, who have finished fifth at the national AAU tournament in each of the past two seasons, will travel to Bloomington, Ind., next week.
Blazers guard Kelsey Brooks, who will attend Olathe Northwest next year, was named her division's MVP.
Copyright 2018 The Lawrence Journal-World. All rights reserved. This material may not be published, broadcast, rewritten or redistributed. We strive to uphold our values for every story published.