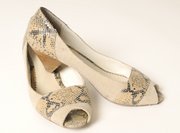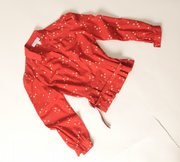 Whether you are interviewing for a job or maintaining your current position, the right attire can be critical. Here's the buzz on spring officewear:
The right fit:
First things first: Wear clothing that fits you now. Although it can be tempting after winter to buy your spring clothing just a little too tight — because it's going to fit once you work off that winter layer — don't do it. If anything, buy only the basics until you've reached your normal size. Just remember, two sizes too big looks sloppy, two sizes too small looks slinky.
Personalizing the drone:
Two-piece suits, dress-shirts and khaki is depressing, I agree. So, c'mon folks. Wouldn't your boss want you to think outside the box?
Add a color splash with a fun scarf, earrings (nothing too club or too patchouli), bright pumps, old brooches, bold (appropriate) lipstick or a shimmering watch. Incorporate your favorite new fashion trends in a befitting manner. For example, pick blouses with spring's bright floral prints and geometric patterns. Even some more exotic fashions, like animal print on your watchband or dress-socks, can be included if it is proper and in moderation. Try out a skinny-trouser or high-cut slack. These little details do not go unnoticed and make dressing for work every day more fresh and fun. If your job allows, the clothing you pick for work should allow an easy transition into after-work attire — say for cocktail hour or dinner at a restaurant with vibe. Work wear does not have to be unfashionable or unrecognizable of timely styles and trends.
Other hints and tips:
Although spring's warm weather calls for lighter clothing, this does not mean more revealing tops and skirts are appropriate. Instead, acknowledge spring's arrival with a sophisticated fashion approach — explore new fabrics and blends or different clothing cuts. Try a full, high-waist skirt or look for a vintage work-suit in a color that has regained popularity.
If you get normally get chilly, think beyond your normal blazer. Bright cardigans with personalized buttons, printed scarves and two-piece tops (try a camisole and a short-sleeved sweater set).
Don't forget the finishing touches! In line for an interview, you will undoubtedly look fabulous in your crisp, tailored outfit and confident smile. But what about that old ratty bag? Whether your schoolbag has taken a beating or your old work briefcase broke and is now permanently replaced by a reusable, cotton grocery sack … no, no, no! You cannot even look the part with an everyday prop that's inappropriate. Invest in a quality purse or briefcase. Why spend so much time on your outfit if it is to be thrown off by a silly bag?
— Caitlin Donnelly can be reached at go@ljworld.com.
Copyright 2018 The Lawrence Journal-World. All rights reserved. This material may not be published, broadcast, rewritten or redistributed. We strive to uphold our values for every story published.