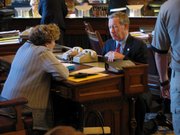 Up-to-the-minute updates
Reporter Scott Rothschild is watching the death penalty debate and posting quick updates via his Twitter account.
The updates are limited to 140 characters and so will feature abbreviations and shorthand. They are unedited.
5:55 p.m.: the takeaway after 3 hours of debate -- kansas death penalty is safe, but study will continue
5:45 p.m.: it appears a deal is forming to send the bill back to committee and then an interim study after the session is over
5:28 p.m.: Schmidt moves to strike the enacting clause -- essentially to kill the bill. "Senate Bill 208 is not ready for prime time," Schmidt said.
5:11 p.m.: Schmidt says New Jersey repealed its death penalty and 57 of 60 who had already been sentenced to death -- their sentences were reversed
4:57 p.m.: Senate Majority Leader Derek Schmidt, R-Independence, sez bill has holes -- would actually repeal life without parole. Owens says no.
4:28 p.m.: Sen. Marci Francisco, D-Lawrence, will vote 2 repeal death penalty. Fear of executing innocent, doesn't deter crime, are some of her reasons
4:14 p.m.: Carolyn McGinn says because of death penalty, victims' families suffer through longer appeals
3:47 p.m.: Terry Bruce, R-Hutchinson, asks w/out death penalty how would u punish an already life sentence inmate who kills another inmate in prison
3:27 p.m.: Susan Wagle, R-Wichita, says removal of death penalty is another step toward devaluation of innocent human life.
3:26 p.m.: David Haley, D-Kansas City, says the death penalty has been ineffective and wastes money.
3:12 p.m.: Carolyn McGinn, R-Sedgwick, sez hi cost of death pen important because needed programs 2 help folks are being cut for law that hasn't worked
3:02 p.m.: Dick Kelsey, R-Goddard, slams idea that death pen. 2 costly. "We get on a slippery slope when we try to put a price on our justice system."
2:52 p.m.: east and west galleries of senate are full as state Sen. Tim Owens begins explanation of sb 208 -- repeal of death penalty
TOPEKA — The Kansas Senate this afternoon will start debate on whether to repeal the death penalty.
But really the debate has been going on for 150 years.
In 1859, the Kansas Territorial Legislature approved a death penalty, which was abolished in 1907. In 1935, the death penalty was reinstated, but that ended again in 1972.
Capital punishment was again reinstated in 1994, which brings us to today.
Since 1994, 11 men have received death sentences in Kansas but none have been executed because of appeals and challenges to the law.
Supporters of repealing the death penalty say it has become too expensive to litigate, and isn't fairly administered. Life without the possibility of parole is a more acceptable sentence, they say.
But opponents of the bill, including Attorney General Steve Six, say cost shouldn't be a factor when sentencing the worst of the worst.
Check back to LJWorld.com after 2:30 p.m. for a live blog from the hearing.
Copyright 2018 The Lawrence Journal-World. All rights reserved. This material may not be published, broadcast, rewritten or redistributed. We strive to uphold our values for every story published.