Tap into beer culture
Tuesday is St. Patrick's Day — as good a day as any to behold a good beer. Some online sites:
www.realbeer.com The site's motto is "What part of beer don't you understand?" It probably has the answer with a clearinghouse of booze articles and a "beer.edu."
mustlovebeer.com A social network for beer drinkers.
www.lawrencebrewers.org Meet up with Lawrence home brewers.
www.lawrencestpatricksdayparade.com Details on Lawrence events.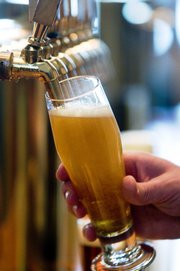 Beer drinking remains an activity often lacking in refinement, but pouring a beer requires some knowledge and subtlety.
Because a bartender who isn't versed in the skill can often tarnish the drinking experience, we talked to several Lawrence professionals who offered their advice on the subject just in time for St. Patrick's Day festivities.
"With our beer, they all pour a little different," says Jesse Fitzpatrick, bartender at Free State Brewing Co., 636 Mass. "It's an adjustment. Some are more heady, so you may have to increase or decrease the (physical) drop."
Fitzpatrick, who has worked at the brewery since 2000, offered these steps for how to pour a draft beer:
• "Rinse the glass. That little shot of water from that rinser will get out anything that is in that glass, like sanitizer that was left behind. It's important to not have that in the beer. It also helps with the lacing, and that is what helps us pour the beer head."
• "You open the tap all the way, quickly."
• "Then we drop the glass down about halfway to three quarters of the way — that way a nice head will form."
Fitzpatrick says at the restaurant there is typically more pressure in the lines at the beginning of the day, which can make pouring problematic. But the biggest bane to consistency is when things get inordinately busy.
"Ideally, you don't get in a hurry and make a mess of it," he says.
When it comes to the correct form for serving from a bottle, Ann Turner says the concept is similar.
"You're dealing with the same principle, whether it's from tap or bottle," says Turner, a bartender at Teller's, 746 Mass.
"You want to be hitting the side of the glass and let it flow down, rather than hitting the bottom of the glass, because that causes way too much head."
She says certain types of bottled beer (stouts, for instance) require alternate methods.
"If you want to pour a proper Guinness, you have to fill it halfway, then let the head settle," she says.
So when these bartenders order a beer at another establishment, are they hypercritical of their counterparts' pouring skills?
"It doesn't bother me at all," Fitzpatrick says. "I'm just grateful I'm getting the beer."
Turner admits, "I've bartended for five years, but I don't actually drink beer."
Copyright 2017 The Lawrence Journal-World. All rights reserved. This material may not be published, broadcast, rewritten or redistributed. We strive to uphold our values for every story published.