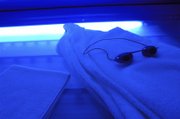 Dermatologists and tanning salon owners may never get along.
Most dermatologists would probably agree the risks of tanning outweigh any benefits. But regardless of what dermatologists say and despite all of the negativity that exists regarding tanning, people continue to do it.
Jannah Laing, owner of Ultimate Tan, 2449 Iowa St., says smart tanning is key to tanning as safely as possible.
Ultimate Tan has been helping residents of Lawrence achieve a golden glow since their doors opened 20 years ago. It is certified by the International Smart Tan network, an education institute that certifies tanning salons, helping them learn about the tanning process, how the skin tans and what is expected of tanning salons.
"Its just really, really important in taking care of your skin," she says.
For Laing, customizing the tanning process for each patron is a must. In addition to learning about customers' tanning history, she talks to them about everything from their skin type to medications they are taking. In some cases, she even discusses eating habits, as some foods cause skin to burn more easily.
"We try to cater to the individual," Laing says.
The sun emits two kinds of UV radiation. UVB rays are what cause most sunburns to the upper layers of skin. Most tanning beds use UVA radiation to help tanners achieve their desired skin shade. It reaches the lower layers of the skin where it triggers melanocytes to produce melanin, the brown pigment that causes tanning.
Dermatologist Daniel Aires of the KU Medical Center explains the problems associated with tanning.
"It turns out skin cancers are caused both (types of radiation)," he says. "Melanoma is the scene of the crime and UVB is one of the criminals, but both UVA and UVB probably play a role."
Aires says he understands high school and college are times when people experiment with the way they present themselves to the world, but he advocates diet and exercise are more productive ways to change appearance.
"It's more important that you work on who you really are and not try to change it," he says. "Barring unforeseen circumstances, they will eventually be in their 30s or 40s, and another problem that will come about that has nothing to do with cancer is wrinkles."
While Aires highlights the problems caused by tanning and stresses the importance of accepting your skin tone the way it is, he recognizes that sunlight is important for the body's production of vitamin D.
"Tanning and vitamin D are flip sides of a coin," he says. "Vitamin D is incredibly important. It has to do with fighting cancer and preventing multiple sclerosis. It can also affect mood."
Other ways to make sure the body produces vitamin D are to take vitamin supplements or drink milk fortified with vitamin D.
Aires acknowledges that going to a tanning salon once or twice probably will not cause irreparable damage for most people. However, there are certain people who should never take that risk.
"For people who are really prone to sunburn, they should really never go tanning," Aires says. "They have a much higher risk of skin cancer."
Laing says anyone who doesn't tan in the sun won't tan in a tanning booth either, one of the things she tries to educate her customers about.
Copyright 2018 The Lawrence Journal-World. All rights reserved. This material may not be published, broadcast, rewritten or redistributed. We strive to uphold our values for every story published.