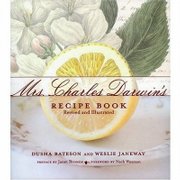 Over the centuries, recipes have evolved as surely as our species. It wasn't happenstance that brought us fish croquettes and macaroni-and-cheese.
Nor was it chance that "Mrs. Charles Darwin's Recipe Book," by Dusha Bateson and Weslie Janeway (Glitterati, 192 pages, $35), was published during the year of Charles Darwin's 150th anniversary of "On the Origins of Species." The book is a collection of comfort foods from the 8-by-8-inch notebook that Mrs. Charles Darwin, aka Emma Wedgewood Darwin, kept from her marriage to Charles.
These aren't recipes that Emma created, or that she necessarily cooked herself, given the household she managed, with 10 children, a dozen servants (including a cook) and numerous friends and relatives as visitors. But from a historian's perspective, these recipes reflect the food on the dinner table of 19th-century Britain and give us a peek at the human side of the man who so greatly influenced modern thinking.
This charming volume, with its botanical drawings and 55 recipes, reminds us of the evolution of tastes. There are recipes for cheese souffle and broiled mushrooms, and for curry and puddings (Emma had 60 in the original manuscript; clearly Charles and the children loved sweets).
All are interspersed with excerpts from Emma's recipes, along with line drawings of farm animals, photographs and the Wedgewood pattern of china (Waterlily) the family used.
The book reminds us that, long before celebrity chefs and bestsellers, food preparation was a household necessity. Our recipes didn't originate with us. They evolved.
Copyright 2018 The Lawrence Journal-World. All rights reserved. This material may not be published, broadcast, rewritten or redistributed. We strive to uphold our values for every story published.