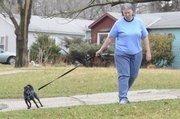 On the last day of 2008, Debra Shirar opened the mailbox and found a letter she had been waiting more than two years to receive.
It was the notice setting the date for her disability hearing. Almost 900 days after she filed a claim for Social Security Disability Insurance, she would finally get her day in court. She cried the whole way back from the mailbox.
"I used to teach, I used to be a prison guard, I used to work on an armored car down on the Plaza in Kansas City. None of that was as stressful as this has been," Shirar said.
More than 11,000 people are waiting for a disability hearing in front of a judge in either Kansas City or Wichita. In 2008, the average time it took to hear an appeal in Kansas City was 719 days, which is just under the two-year mark. In Wichita, it was 516 days.
A work in progress
John Garlinger, regional spokesman for the Social Security Administration, said progress is being made.
In the past few months, average wait times for hearings have dropped by 100 days in the Kansas City office and by more than 50 in Wichita.
Last year, SSA worked on eliminating all cases more than 1,000 days old and then got rid of all cases 900 days old. Now they are looking at whittling away those cases more than 850 days old.
"We are no less happy that we have cases waiting that long than we did when … we first started really focusing on disability, but we are working our way through it," Garlinger said.
At Lawrence's Independence Inc. office, which helps hundreds of people navigate the disability system each year, the wait times have gone down, benefit advocate Rob Tabor said.
More cases are being sent back to the state for special review, which results in faster decisions and frees up hearing spots. However, hardship remains.
"It still takes a long time to wait. We still get a lot of distressed calls, whether it's due to financial distress or medical distress because treatment options are somewhat limited until you get benefits," Tabor said.
After years of shrinking or stagnant budgets, more money is being funneled into SSA, meaning more administrative law judges and field workers can be hired to help process the claims.
However, a country in an economic tailspin has also meant more people are filing for disability insurance. In the last quarter of 2008, the country saw a 10 percent increase from the year before in people applying for disability insurance.
Rebecca Ray, corporate communications manager for the Social Security disability representation company Allsup Inc., compared the situation to a traffic jam.
"Even if you add a couple extra lanes or provide a few more exits, you won't break the blockage if too many cars are flooding the on-ramps to take their place," she wrote in an e-mail.
Waiting to be heard
Since Shirar applied for disability in October 2006, she has been living with a friend and off the state's general assistance program. The program gives her $172 a month for food and $144 a month for other living expenses. She has left medicine prescriptions unfilled, stopped physical therapy treatment and held off on replacing her out-of-date eyeglasses.
"It is a tremendous strain," she said.
Shirar, who worked for 41 years and sometimes two or three jobs at once, has a long list of medical problems. They include a degenerative tailbone and neuropathy in both arms. Since filing for disability, Shirar has worsening arthritis in her knees and is losing her eyesight.
Doctors say she can't lift more than 10 pounds or work more than four hours a day.
All this was told to the administrative law judge at the March 3 hearing. For the hearing, Shirar showed up two and a half hours early.
"There was no way, no way, I was going to be late or miss or do anything that would negate my being able to have that hearing. I would have crawled to Kansas City if I had to," Shirar said. "That was one of the most important days of my life."
Making progress
In August 2007, Kansas was ranked as the worst state in the country for the time it took to process disability claims. Since then, improvements have been made, both in the region and nationally.
SSA has decided to open a hearings office in Topeka, which will take about two years. That office will have five judges and support staff.
"We are constantly looking at workloads and where the work is and what we need to do to solve some of those challenges," Garlinger said. "By opening up an office in Topeka, we can take some of the pressure off of the Kansas City hearings office."
Last year two more administrative judges were brought into Wichita, bumping the total to seven judges.
A national hearing center in Albuquerque, N.M., will start picking up 150 cases a month from the Kansas City office. SSA has helped the process by using electronic files and creating compassionate allowances, which fast-track the process for those who have severe or life-threatening medical conditions.
And the numbers in Kansas have dropped. Compared with this time last year, the Kansas City and Wichita offices have 5,000 fewer cases waiting for a hearing.
Nationally, more money is coming into the administration. After a 6 percent increase in the 2009 budget, President Barack Obama's appropriation bill included another $126.5 million. The American Recovery and Reinvestment Act has an additional $500 million to help with the disability and retirement workload.
"All that is going to take time to play out on the ground, but there is help on the way from a budget standpoint," said Andrew Imparato, president and CEO of the American Association of People with Disabilities.
Even with a new hearings office in Topeka and more judges on the way, Tabor questions how much difference will be made if a bad economy means more claims. So far, he said, Lawrence hasn't seen an increase.
"These things may be just enough to keep the backlog from getting worse," Tabor said. "There might be reason to be optimistic if not for the state of the economy."
Shirar's case isn't over. She is still waiting for a judge's decision, which is expected to take up to 90 days. If her claim is approved, she could receive $820 to $1,320 a month in disability benefits. She would also get back pay for the years she has waited for her claim to be approved, minus the state's general assistance money.
If denied, Shirar will appeal.
"I will fight it," she said. "I feel like I haven't been a couch potato on the work end. I feel like it is my money."
Copyright 2018 The Lawrence Journal-World. All rights reserved. This material may not be published, broadcast, rewritten or redistributed. We strive to uphold our values for every story published.