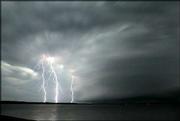 Radio recommendations
Here are some key features to look for when shopping for a weather radio. • Make sure it is programmable so that you hear the alerts in only the areas you are interested in. • The radio can be plugged into an electrical socket but also has a battery backup. • If you want to be able to take the radio in your vehicle, make sure you get the proper cord to connect it to a cigarette lighter. • For use in vehicles, you might consider getting exterior antennae. Make sure the radio has an exterior antennae jack on the back of it.
Ask meteorologists and emergency management experts what they think is the best severe weather tool, and you get a quick answer.
An all-hazard weather radio.
"As it stands today, the most reliable and the quickest information for a severe weather event is the weather radio," said Chuck Magaha, Leavenworth County Emergency Management director.
That doesn't mean you're going to have to listen to every storm warning that's issued for your part of the state. That was the case 20 years ago, but not today.
"The new radios use data encoding, and you can program it only for the county or counties you want to listen to," said Bob Newton, a duty officer with Douglas County Emergency Management.
Weather radios pick up broadcasts from a nationwide network of transmitters used by the National Weather Service. The series of frequencies used are in the VHF public service band and not on the standard AM-FM commercial broadcast bands.
Weather radios broadcast continuous weather information and issue severe storm watches and warnings. Other information also is broadcast pertaining to regional or national emergencies, such as an evacuation or environmental problems. They also are used to alert the public about child abductions, or AMBER Alerts. That's why the radios now are called "all-hazard weather radios."
Someone with the radio can choose to listen to the continuous weather broadcast, or they can program the radio to turn on the audio only when there is a severe weather alert or other emergency in their area. The selective feature is called SAME, or specific area message encoding.
"You can set it on mute, and it will sound a siren or a tone and turn on the audio when there is an alert," Newton said.
The tones are loud.
"It will wake you up at night like a smoke detector," Magaha said.
You can find a variety of brands and types of emergency radios at electronics stores or in a department store's electronics section. Prices typically range from $20 to $50. You can also buy one at the Douglas County Emergency Management office in the Judicial & Law Enforcement Building, 111 E. 11th St. They are sold for $30.
Some of the radios can be modified for use in a vehicle. A vehicle external antenna may be needed, however, to get good reception, Newton said.
"They've come a long way," Newton said of the evolution of weather radio technology.
The weather radio network was set up by the National Oceanic and Atmospheric Administration. It has at least 1,000 transmitters covering all 50 states, adjacent coastal waters, Puerto Rico, the U.S. Virgin Islands and U.S. Pacific territories.
Copyright 2018 The Lawrence Journal-World. All rights reserved. This material may not be published, broadcast, rewritten or redistributed. We strive to uphold our values for every story published.