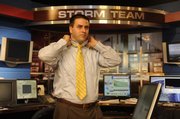 I am reminded of what initially sparked my interest to be a meteorologist every time I watch my kids when they wake up to see snow covering the ground. Or watching them look up at a building storm cloud and ask me what the clouds mean.
I remember that feeling of throwing back the curtains in the morning to see whether the forecasted snow really fell overnight. I still do that today. Only now, my stomach is in a knot to know whether or not the snow I predicted actually happened.
Since I was young, I knew that meteorology was the only career for me. I love watching the clouds move and change, growing into larger and larger clouds. I have always loved standing outside as cold fronts blow through and feeling that instantaneous drop in temperature. But figuring out how all that happens took quite a bit of learning and college tuition.
I got a bachelor's degree in math and then a master's degree in meteorology. My first TV job wasn't on air. I was behind the scenes, being trained at one of the nation's best severe weather TV stations. I was there during the historic tornado outbreak in 1999 when Oklahoma City was hit by an F-5 tornado.
I have been on-air forecasting now for about 10 years, but I'll never forget that first on-air job in Lubbock, Texas. I was overwhelmed with everything that you have to do to get ready to go on air with the forecast. You work all day preparing the forecast, graphics and presentation ideas, and you get about three minutes to tell everything in a way that people can understand. If you don't get the forecast right, the whole day was wasted. It's a lot to know that thousands of people trust you at your word when you "tell the weather."
Computers are very important to my job. I spend a lot of time looking over computer models looking for similarities and differences in what is being projected. My mind is constantly swirling with what I've seen weather systems do in the past. It's like having a mental Rolodex of all the right and wrong forecasts. Those "lessons learned" keep playing back in my mind as I watch each day's weather pattern develop.
Eventually, I get to a point where I feel comfortable with what I am forecasting, and I turn to the graphics-making side of the day. Finding a way to take what I believe will happen and turn that into a decent-looking graphic of what to expect is sometimes easier than it sounds.
In a given day, we can have a whole range of expected weather. I don't want to just say it's going to be a warm day if only the afternoon will be warm. Perhaps the morning will be cold and gusty winds pick up before the warmer afternoon temperatures are reached. If someone is out at 10 a.m. and has some cold wind chills to deal with, then I want them to know to expect that.
I have another challenge: How do you cram that much information into three minutes and still make the forecast easy to follow?
The days become even more hectic when you throw in the chance of severe weather. Forecasting storms is a whole different ball game. I find myself looking at severe weather parameters on a minute-by-minute basis. Once the storms form, I'm coordinating where we want our meteorologists to be so that we have as many eyes on the storms as possible.
I'm also looking for opportune times to break into the rundown of programming so that we don't interrupt someone's television viewing while still monitoring the radar trends. That can be easier said than done. I've found that if you can keep people up to date on the weather without interrupting the show they're trying to watch, then people will take notice without being bothered.
Some days in the hectic pace of a weather day, I long for the days where I could just sit back and watch the storms blow in. But I don't think I could ever just sit back and relax when it's storming.
It's in my blood.
Copyright 2018 The Lawrence Journal-World. All rights reserved. This material may not be published, broadcast, rewritten or redistributed. We strive to uphold our values for every story published.